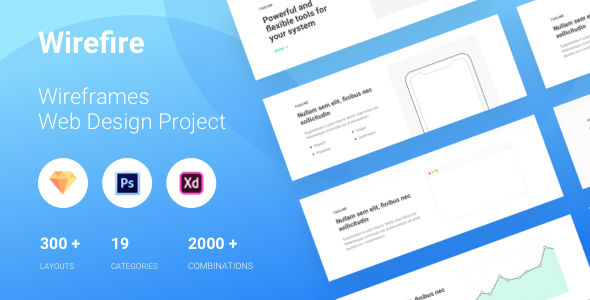 Beautiful wireframes for web design project are higher fidelity with most of the layout design finalized and even some visuals beginning to be introduced. Create amazing wireframes websites in minutes . Choose the layout you need from a huge collection of 200+ slides , 19 Categories and 2000+ Combinations . Combine them to create a static website that meets your needs. Carefully constructed lines to build very uniform and accurate wireframes for exploring how a website will scale.
There are a ton of benefits to kicking things off with wireframing: it saves time, makes it easier to spot usability issues, and lets designers focus on creating a solid user experience. It allows the designer to map out exactly how the structure of the website can work, as well as the general layout direction of important elements such as navigations, forms, and content sections. Available for Sketch , Adobe XD , Photoshop.
It is easy to develop a project, because you are not doing this from the scratch. We've built all the important stuff for you that is easy to customize for your needs.
19 Categories Wireframe Web Design :
Header
Gallery
Grids
Contact
Covers
Pricing
Header / Navigation
Footer
Form
Team
Text
Testimonials
Metrics
FAQ
Call To Action ( CTA )
Portfolio
Base Elements
Highlights
300+ Slides
19 Popular Categories
More than 2000 Combinations
Compatible with Adobe Photoshop, Adobe XD & Sketch App.
All shapes are vector and 100% customizable