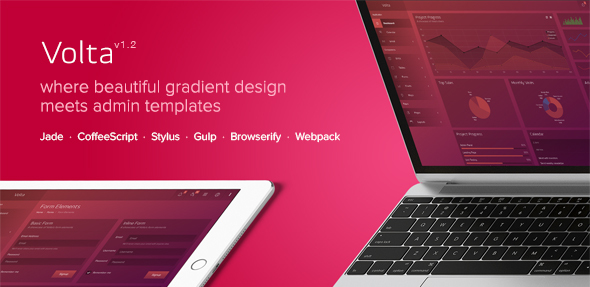 Volta – Futuristic Web Application and Admin Dashboard
Volta is a futuristic Web Application and Admin Dashboard built with Bootstrap 4, Stylus and CoffeeScript.
Cutting Edge
Volta is built using the latest and most popular web development languages and techniques, offering a pixel perfect design and hassle free functionality. Volta extends the capabilities of Bootstrap 4, written in HTML5, Stylus and CoffeeScript.
40+ Pages
All the pages you'll need for a web application, together with usage examples of all the included 50+ javascript plugins.
300+ Themed UI Elements
Each and every one of the custom reusable components is themable and designed with beauty and usability in mind.
Morph Navbar Dropdown
Unique and impressive, the morph dropdown designed for the Volta navbar is something you should definitely look forward to.
Changelog
Version 1.2.4

- Build system update. Added missing dependencies.
- Updated bootstrap to new version.

Version 1.2.3

- Added missing files for Koa server (index.js, assets/routes.js)
- Development process is now started using npm run dev.

Version 1.2.2

- Fixed how scrollbars look like in Firefox and IE on Windows.
- Added browser and operating system checker

Version 1.2.1

- Updated heading fonts
- Added navbar-brand image logo styles
- Fixed various bugs

Version 1.2.0

- Rewrote all pages to use PugJS as Template Engine
- All themes now available and choosable without switching stylesheets
- Added Browserify support for building assets (unbundled)
- Added WebPack 2 support for bundling assets
- Greatly improved responsive behaviour
- Improved and stabilized gulp setup
- Removed the need for a server
- Added touch interactions to sidebars
- Sidebar active section is now open on load
- Redesigned sidebar responsive behaviour
- Redesigned navbar responsive behaviour
- Improved overall design

Version 1.1.8

-  Changed scrollbar plugin

Version 1.1.7

- Updated calendar design for mobiles
- Fixed font parsing warnings in Windows and Linux

Version 1.1.6

- Modified flat body color to be a blend of primary and secondary
- Modified scrollbar color in Chrome
- Added autohide scrollbar for IE10-11 and Edge on sidebar and morph gallery

Version 1.1.5

- Fixed select input text overflow on Windows and Linux
- Added table hovered modifier

Version 1.1.4

- Fixed responsive sidebar submenu show/hide
- Fixed responsive mail aside menu
- Renamed EasePack.min.js to easepack.min.js

Version 1.1.3

- Fixed chat tab scrolling issues

Version 1.1.2

- Added GulpJS automated build system
- Added ExpressJS development server
- Added missing Stylus files

Version 1.1.1

- Fixed sidebar task ids

Version 1.1.0

- Modified homepage layout
- Modified left sidebar structure
- Modified right sidebar design

Version 1.0.2

- Reverted left sidebar to native scrolling

Version 1.0.1

- Fixed responsive morph dropdown overflow

Version 1.0.0

- Initial release of Volta