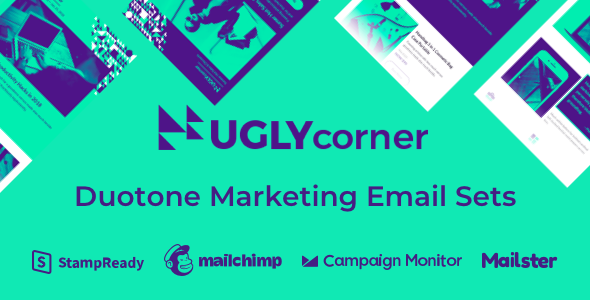 Unique email designs for memorable marketing campaigns. Fresh colors, custom patterns and duotone images. Packed with 12 responsive email examples with a hybrid fallback for all your email-design needs.
Create stunning email designs directly in your ESP. Drag and drop blocks, update content, customize colors and… Send! Compatible with 70+ apps and devices. Popular clients include: Apple iPhone, Gmail, Apple iPad, Apple Mail, Outlook, Samsung Mail, Google Android and Yahoo! Mail and Windows Live Mail.
What You Get
3 color themes, each with 12 email examples
PSD source files: artboards and patterns
HTML source and ready-to-use files
StampReady templates: pre-built designs + reusable version (requires a paid subscription)
MailChimp templates: pre-built designs + reusable version
Masilter template: reusable version + notification + pre-built designs
Campaign Monitor templates: pre-built designs + reusable version
Included Email Examples
tutorials
blog
podcasts
events
directions
music tracks
invitation
agency story
agency website
upcoming event
pricing
shop
High Quality Stuff
I regularly update my items, either for platforms updates, reported bugs, or… you know… just for fun! Seriously, I ❤ all my items! Just check my track record.
Compatibility
Desktop clients
Apple Mail 10
Apple Mail 11
Apple Mail 9
Outlook 2000
Outlook 2002
Outlook 2003
Outlook 2007
Outlook 2010
Outlook 2011
Outlook 2013
Outlook 2016
Thunderbird 52
Mobile clients
Android 4.4
Android 5.1
Android 6.0
Gmail App Android
Gmail App iOS
Gmail App IMAP Android
Google Inbox
Inbox by Gmail
Outlook Android
Outlook iOS
Samsung Mail
iPad Retina
iPad Mini
iPad Pro 10.5/12.9 inch
iPhone 6/6 Plus
iPhone 6s/6s Plus
iPhone 7/7 Plus
iPhone 8/8 Plus
iPhone Beta
iPhone SE
iPhone X
Web clients
AOL Mail
G Suite
Gmail
Inbox by Gmail
Mail.ru
Office 365
Orange.fr
Outlook.com
T-Online.de
Yahoo! Mail
freenet.de
Tested in Chrome, Explorer and Firefox.
Item Support
To get in touch with me use the official contact form. You can:
ask me technical stuff
get help with a displaying glitch
hire me for a custom job – I'm pretty pricey
ask me a weird question
Response time might take up to 1 business day, but I try to answer right away. I'm based in Romania (EET), so please mind the time difference.
Leave a Rating
If you want to support my work or if you just thought my item was helpful, leave a 5 star rating and a short blurb on what you like the most about it. It means the world to me!
See More of My Work
Envato × Twitter × Dribbble × Instagram × Behance × Facebook