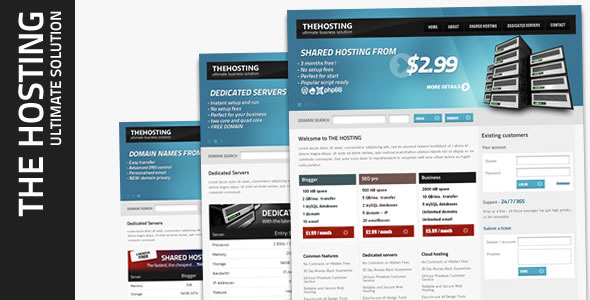 Hello everyone.
If you need nice, easy to implement and clean template for IT business providing hosting services (shared and dedicated) who may also doing web design and networking – that's that.
This template has got 5 sub pages – you don't need more. Even if – you will find very easy to extend it.
This template has got working bits on forms – domain search, logging in – not like others
I've implemented really nice and easy includes system in PHP that helps keep site in right order.
Original project was created in Fireworks and I exported and corrected in to Photoshop – you will find all files.
Fonts – the best ever – http://www.campivisivi.net/titillium/
Icons – Vista networking 03 – http://www.freeiconsdownload.com/Free_Downloads.asp?id=837
3D Servers
Make sure you check my 3D servers from GraphicRiver: