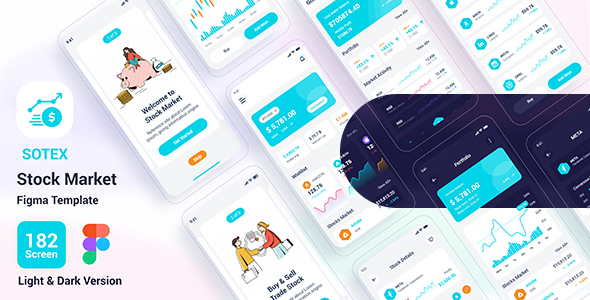 Sotex UI Kit is a high quality pack designed for Stock Market, Trading, Exchange money, Cypto Business. The package containing tons of useful elements and components to create mobile apps. It also includes 182 ready-made screens for iOS to make your design flow simple. We will update more and more categories and styles.
We keep lifetime update here.
Let us do it.
Features:
• 100% High-Quality vectors
• 182 Premium iOS Screens
• Dark & Light Version
• Fully Customizable
• Well Organized Layers and Groups
• Good color combination
• Ready to code
• Image are not included
• Well Documented Help File
• Compatible in Sketch, Figma, Adobe XD, Adobe Photoshop
File Format
01_Splash Screen
02_OnBoarding
03_OnBoarding
04_OnBoarding
05_Welcome_Login
06_Welcome_V2_login
07_signin
08_OTP Verification
09_Create password
10_Forget Password
11_Select Location
12_Search Location
13_Forget Password_popup
14_Forget_password_Email_Code
15_Change_password
16_Sign up
17_Success Screen
18_Otp_Code
19_Home
20_Home_V2
21_Home_V2
22_Home_V3
23_Home_V4
24_Market List
25_Market Trends
26_Portfolio
27_Portfolio_Details
28_Activity
29_Exchange Candlesticks
30_Exchange Candlesticks_Details
32_Stock Market
33_Detail Stock
34_Details Stock_V2
35_Order Books
36_Exchange – Select Portfolio
37_Refer & Earn
38_Exchange
39_Favorite
40_Coin Details
41_Stock_Portfolio
42_Address
43_Scan QR Code
44_Delete transaction
45_Coin no holdings_Candlesticks
46_Coin_Candlesticks
47_Stock_item_Details
48_Stock_item_View
49_Asset Allocation
50_Candel
51_Macd
52_Line Chart
53_My Contacts
54_Transaction Details
55_Exchange Sucess
56_Filter
57_Share
58_Exchange_V2
59_Buy Stock
60_Payment Method
61_My_Portfolio
62_Portfolio Setting
63_Profile_Details
64_Touch ID_Active
65_Touch ID_Scaning
66_Touch ID_Scaning_Success
67_Touch ID_Enable_V2
68_Face ID_Enable
69_Support Center
70_Support Center_Chat
71_Audio_Call
72_Dashboard
73_Oops
74_No internet connection
75_No messages
76_No Credit Cards
77_No results found
78_No messages yet
79_Something went wrong
80_Done!
81_failed
82_Payment method
83_Notifications Setting
84_Choose_country_select
85_Comments
86_ Payment successful
87_Video_Call
88_Notifications
89_How it work
90_Review
91_Settings
– Same file 91 Screen Dark
– Same File 91 Screen Light
Font Used:
https://fonts.google.com/specimen/Roboto
Icon Used:
Image Used:
– undraw.co/
– freepik.com
– stories.freepik.com/
– themeisle.com/illustrations/
– https://www.iconfinder.com/iconsets/finofin-finance-illustrations
Software Version :
– Figma
Customization:
You need to download some appropriate images from the image banks or given below link freepik, undraw. You can also edit any text, color or any font file by double click and change the same.
So thanks again for your support, its greatly appreciated. Also checkout my other template files if you are interested.
In case you come across any problem, please message me on my profile:- https://themeforest.net/user/createuiux
I hope you like the designs. If You Like It! Please, Do not Forgot to Rate it
Thank you!
Note: All images are just used for preview purpose only and replaced with Placeholder Images. They are not part of the template and not included in the final purchase files.