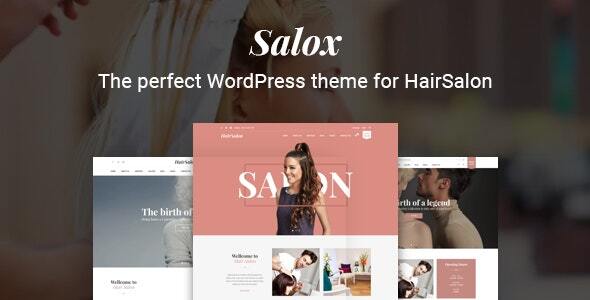 Hair salon WP is a beauty and hair salon WordPress theme for all hairstylists, barber shop, beauty lounge, spa, body treatment, hair care and makeup services. The theme is made by one of the finest web designers on the market under the help and support of many famous hair specialists and artists, influencers. We are sure that you and your customers can have a seamless experience with your website after using this theme.
If you are looking for a good theme for beauty and hair salons, this is not the right one for you. But if you are looking for an awesome, beautiful, intimate hair salon website template for WordPress that your client will fall in love at first sight, this is the one you are looking for.
Hair salon WordPress theme overview
As mentioned, Hair Salon WP is perfect for you to gain trust and love from your customers thanks to its exceptional designs. We understand that a website for a beauty business like yours must be a state-of-the-art piece of product to persuade people and to increase revenue.
Hair Salon WP is quite flexible since it can also be used for businesses in medical, health, beauty and spa or any business that needs to showcase your services visually to attract potential customers. The attractive interface of the theme is not its only absolute advantage. Hair Salon WP is also better when it comes to the wide range of functions and features that are meticulously made and researched to cater to the need of your business.
Simply put, Hair Salon WP is not just another theme. It is the swiss army knife of the beauty, spa and hairdressing industry.
Trouble-Free Easy Installation and Setup
Build with newest ThimPress WordPress Framework
This is the first WordPress Theme to be built with our newest WordPress Thim FrameWork. This framework not only makes your site boost your site's performance to rocket-fast, but also helps you manage all of the theme's options in one place. Better management is the key to win in this world of tough competition.
One click install and auto-Update

This theme is made for non-techies and even if you have no coding experience, you can still setup and install this WordPress theme for hair salon in under 5 minutes. All features and functions can be set up easily by just clicking one button.
With the time you save, you can spend more time for your business, i.e crafting the best hair styles for your customers or working with your highly specialized staffs.

Iconic artistry design for art lovers

As human beings, we all love art and we all want to make ourselves more gorgeous and charming. Not only that, we are drawn towards beauty things in life. That's why your customers need your services to have a great look, a great feeling and a great time. That is also why we made the theme to be as beautiful, bright and elegant as possible. There's no one size fit all product, and we know that, so we made many hair salon website templates that your customers will love.
– 3 unique homepage designs
– Many service list designs to choose from
– 3 top menu styles
Socially connected with your beloved customers
Instagram Feed

Even if you don't usually update articles on your website, this theme will still help your customers to watch your latest updates on Instagram. This function can also help you increase your followers on Instagram. Pretty cool, isn't it?
Vintage and inspirational blogging platform

A beauty blog is an indispensable part for a business like yours. Your customers love to read about beauty tips from you. For that reason, we made the blogging section to be as vintage and inspiration as possible to make people stay and read and become your customers.
Testimonial – Social Proof for better site trust

What is the best way to gain trusts from others? Let them read other people's reviews about you. Testimonial is a proven method to increase revenues.

Sell your product online has never been easier

No matter what area you are working in, eCommerce is still a big part of your website, and that your business needs to sell some products to generate income. It could be hair products, shampoo, hair spray, conditioner, make up kits, etc. or it could also be services like body treatment, blow-drys, updos or makeup services etc.
The theme is fully compatible with woocommerce, meaning you can sell as many product online as possible. It also goes with a booking form so that your customers can book your service online easily.

5 star Supporting team

Your website is an important part of your business, and once you buy the theme, we can help you with technical problems of the theme in 6 months. You wouldn't have to worry about any technical issues. All you need to do is to manage your company and see how it generate profits for you. Besides, we have a system to help you solve your problems faster:
As the title mention, the online documentation are constantly update (just like the theme is constantly update) so that your website will never be out of date, and you can always find answers and tutorials to your problems in this documentation system. One more benefit is that you can access the documentation system anywhere, anytime.
Of course there will be problems that you cannot handle alone. That's why we've formed a group of specialists to help you with all the bugs and errors in your website. The team is strong and knowledgeable. If possible, please take a look at our portfolio and other products of ours, and see how people are talking about our customer support service. We are an A-team willing to help you.
What they say
ThimPress is an Elite author on Envato Market with more than 12,000+ satisfied customers. Even though this beauty and hair salon theme is newly released you can still have an insight based on what customers are talking about us from all of our other products.
Below are some of our customer reviews. Here at ThimPress, we care about our customers, and we wouldn't leave any of our customers behind, especially those who are educators, those who are sharing knowledge to the world.

Key Features for Hair Salon WP theme

3+ awesome demos

One-click demo importer

Many header layouts

Fully responsive and Retina ready

Woocommerce support

Premium drag & drop page builder with Visual Composer (save 34$)

Revolution Slider included

HTML5 + Bootstrap 3

Amazing paralax effect

Unlimited color & skin

600+ Google font

FontAwesome icons ready

Socially connected

Contact Form 7 support

RTL support
And much more…
CHANGELOG
Hair Salon WP 1.1.2 – 2021-Oct-11
Fix crop image with php 8<
Hair Salon WP 1.1.1 – 2021-Aug-23
Compatibility with WP 5.8<
Hair Salon WP 1.1.0 – 2020-12-17
Compatibility with WP 5.6<
Hair Salon WP 1.0.9 – 2020-08-27
Updated:  Out of date file with WooCommerce 4.4.x
Hair Salon WP 1.0.8 – 2020-06-29
Updated:  Out of date file with WooCommerce 4.x.x
Hair Salon WP 1.0.7 – 2018-12-19

- Update: Thim Core Installer.
- Update: Data for plugin.
- Update: Oder shortcode Our Team.
Fixed Errors:
+ Woocommerce 3.x
+ Archive Our Team.
+ Testimonial.

Hair Salon WP 1.0.6 – 2017-10-26
+ Updated: Thim Core Installer.
+ Compatibility with WooCommerce 3.2 + version

Hair Salon WP 1.0.5 – 2017-04-20
+ Compatibility with Thim Core latest version.
+ Woocommerce 3.0.3

Hair Salon WP 1.0.3 – 2017-02-15
+ Thim Core: Fix dashboard
Hair Salon WP 1.0.2 – 2016-10-28
+ Updated: Plugin Thim Core, Dashboard.
Hair Salon WP 1.0.1 – 2016-10-26
+ Updated: Plugin Thim Core, Import demo (Support PHP 5.3 or latest)
+ Fixed: UI errors
Hair Salon WP 1.0.0 – 2016-10-23
+ Release the first version.
WordPress themes by ThimPress