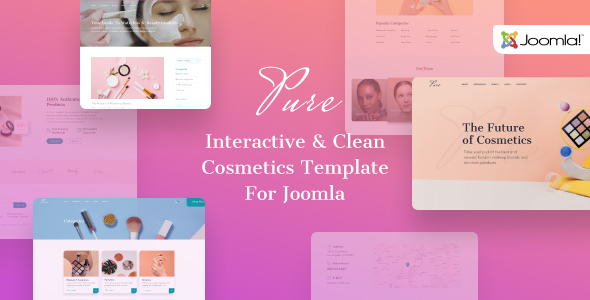 Clean Beauty Salon Joomla Template
A beauty salon Joomla template can provide your website with everything required to succeed online. Nowadays, it is important to create a good website for any type of business. Beauty salons aren't an exception. However, in modern times it is not enough to create a classic website. To become an acknowledged professional, you have to be sure that your site suits your business. This is why you can find so many website templates.
Still, building a well-maintained website is easier with a content management system (CMS). Today, one of the most popular CMS is Joomla. It requires little to no coding knowledge, even if you use a ready-made theme. And if you need a template for your beauty salon, we have something to offer you. Our latest solution, Pure beauty store website theme, has all you need to run an online business and promote your products simultaneously.
Colorful & Feature-Rich Joomla Template for Cosmetics
The beauty makeup & cosmetics industry depends on a visual presentation a lot. This is why our designers made the Pure beauty salon Joomla template as colorful, creative, and elegant as possible. Also, this solution is filled with dozens of great features. They let you take full control over the website content. For example, you can easily modify the blocks of your site by using the Joomla admin panel. Or you can allow your visitors to get in touch with you via various contact forms. Besides these essential features, our website theme provides the following:
Our team has also included many visual elements to help you create a good website. They can be used for both decoration and customization. If you want to improve the look of your website, the various animations and effects will come in handy. For example, Parallax will help you create an immersive effect. And with other visual advantages, you'll be able to completely transform your website. This will be especially useful if your site needs to be stunning yet informative.
Multipage Beauty Store Website Theme
Undoubtedly, no website is complete without blog & gallery sections. Our beauty salon Joomla template features perfectly crafted & responsive layouts of these important pages. Also, your homepage will benefit from the included gallery & blog sections. The blog page itself includes a well-developed sidebar with simple & effective categories, search, and tags.
At the same time, the gallery page can boast of impressive albums as well as a makeup portfolio. This page will be especially suitable for a makeup artist. Other pages featured in this template include:
FAQs;
History;
Services;
Careers;
Partners etc.
As you may have noticed, the Pure beauty salon Joomla template is a multipage solution. Besides the abovementioned pages, it features a Category page. It will let your customers to easily find the beauty makeup products they need. if you intend to establish an online store offering makeup & skincare products, our website theme will be of great use. Don't forget that you can tell more information about your beauty salon and its team with the About Us & Our Team pages. Developers also added testimonials feature to help you share feedback.
Fully Customizable Joomla Template with Professional Support
Are you planning to build a 100% unique website? Then you may find the beauty salon Joomla template customization features interesting. Our solution is backed with a variety of text elements, buttons, progress bars, and other UI elements. They are well-integrated into our template. Its pre-developed content blocks and sections will add more value to your website. You'll be able to modify any visual aspect of this template after it's installed and configured.
If you want to know more about this beauty store website theme, we recommend taking a look at its documentation. It is simple yet effective and it contains answers to various common questions. For example, you can find out more about template installation and configuration. Moreover, you can always reach out to our professional support team. They will gladly help you solve any issues and answer any questions related to our templates. We hope that the products from our portfolio will prove to be useful on your way to online success.
Changelog
Version 1.0 – June 09, 2020
Initial release
Thank You!
Thank you so much for your interests. Your comments and ratings would be much appreciated.
When you purchase this template, you get friendly and effective support. We will update this template time by time and we want to hear your wishes for the future updates or for complete new templates.
If you like our template please rate it!