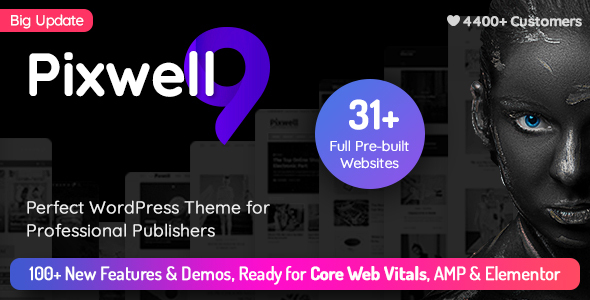 Pixwell is a powerful, multipurpose and modern WordPress magazine theme with pixel perfect design, outstanding features, fully responsive and mobile-friendly. It is a very flexible and well suited for recipe, fashion, travel, technology, personal or any other awesome magazine and blog websites.
The theme is compatible and optimized to work with Elementor, Cooked (Recipe plugin), WooCommerce, Contact Form 7, AMP, W3 Total Cache, Yoast SEO, and many other popular WordPress plugins.
Pixwell is SEO friendly with Schema compatible structure. Supports organization, site links search box, breadcrumbs bar, open graph. That will make search engines love your website.
Pixwell is also optimized for the database and fast load. Pixwell is built to work for large websites, uses only one meta to store all additional post data, Almost functions are as modular and only load when needed.
Pixwell supports built-in Ruby Composer and Elementor builder. That will make this theme is easy to use for a new WP user. However, It becomes flexible, can build anything and come unlimited If you are a professional.
This will be the last theme you will ever want to use. It is so much better than anything you have seen.
Main Features
Creative Design
Pixwell is a bold theme that organizing content to follow natural eyes, striking balance between beautiful and visual hierarchy.
Unlimited Layouts
Comes with tons of custom elements. Every demo are unique, different elements can combine.
One click Install Demos
All the demos are available to install from the theme options panel. Flexible options to select import all or options, widgets. You can import all demo if you start from scratch or select individual options.
Fully Responsive, Mobile friendly
The theme passed Mobile-Friendly Test – by Google. We also tested carefully the theme on almost devices: laptop, tablet, and phone. All elements are 100% responsive and ready for all devices.
Elementor
If you are using Elementor and love it. Don't worry, the theme is compatible and supports all layouts for this plugin.
Ruby Composer
Built-in builder of our theme. It is lightweight, user-friendly drag & drop builder. Easy to use for new WP users. Predefined templates to quickly create any page just with 1-click.
SEO Optimized & Supported
Meets with SEO standards, Microdata markup, Organization, Open Graph, and Google SERP. Easy to add information via Theme Panels.
Superior Performance, Well Code
Organization code by modular, load when needed. None heavy 3rd plugins. Support child theme and all functions can be overridden.
Ready for Core web vitals
Optimized for speed: naviate lazy load, preload fonts, clear code and database optimized, compatible with popular cache and minify plugins. That make the theme ready for core web vitals.
AMP supported
We understand this is an important feature in a modern theme. Absolutely, Pixwell fully supports AMP plugin in transitional mode and all default templates: post, page, homepage, blog, category, search and much more…
Dark Mode
Dark mode supported, allow the visitors to change to dark mode in frontend. You can use dark mode as the default site layout..
Amazing Ajax and Live Search Input
Built-in powerful ajax system, Pixwell allows you can add a lot of filter types into the block header. Your visitors can quickly find posts by categories, tags, authors. Pixwell also supports load more and infinite scroll pagination types and live input search in the header.
Flexible Customization with Theme Options
Based on the Redux framework. Pixwell supports Theme Options panel with hundreds of options, Allow you can control overall styling, elements, typography, and color whole the site.
Read It Later (Bookmarks)
Unique feature and only available in Pixwell. That allows your viewers to bookmark interesting posts and read it later.
Lazy Load
Reduce the site preload time, This will make your viewers happy.
Quick Translation
Pixwell allows you can translate to your language directly via Options panel. It also supports PO files, you can use "Loco Translate" plugin or PO edit software if you want.
Amazing Post Features
5+ single layouts. Supports videos, gallery, audio and standard. Sponsored, self-hosted and GIF supported. Custom meta value, built-in review systems and much more…
Infinite Single Load Next
Are you looking for this feature for your website to increase page views, keep viewers to keep reading your content? This is good news for you. Pixwell supports it with extra options: track Google pageview, load next post based on category and custom advertising sidebar for the next load.
Newsletter Popup
Pixwell comes with Ruby newsletter system, this is a premium feature that comes with this theme. Beautiful popup design, live notice when subscribing and easy export data to file. The theme also supports MC4WP plugins
Table of contents
Pixwell supports table of contents, makes it easier for the visitors to navigate
GDPR Compliant
GDPR compliant support. Don't need to use any 3rd plugin to display cookies notice anymore.
Parallax Animation
Display big featured images smoothly and the parallax animation has been added when scrolling. This makes your site looks professional and stand-out.
Post Reactions
Another unique feature is available on Pixwell. Help your viewers post their reactions to your posts.
Post View Counter
Pixwell supports post view counter plugin. A popular and reliable plugin to count total views of posts. It allows you can sort posts via the view data.
Cooked Support
If you are a food blogger and looking for a WP theme support recipe, Pixwell is well suit with your need. The theme support cooked plugin allows you can any recipes you wish.
Inline Related
Pixwell supports inline related post shortcodes. Allow you to put related post inside your post content.
Gallery Popup
Pixwell supports gallery popup lightbox. Allow you to show gallery images with full information: caption, title, description.
Advert Responsive
Built-in responsive Adsense function. You can choose any size of AdSense for laptops, tablets, and phones. Put them anywhere you would like. Don't need tired to install or find any other solutions.
In-feed Ads
Pixwell support in-feed ads, you place inside your feed to help monetize your site and provide a better user experience to your visitors.
Woocommerce
Pixwell completely supports Woocommerce and Wishlist plugin.
Shop The Post
Display shopping items or any 3rd party affiliate code in the single post content. Best suit theme for fashion bloggers or people want to showcase items and start monetizing a blog. Amazing new feature to earn money online by doing what you love.
WPML Supported
compatible with WPML, allow you to install multiple languages on your website
Gallery Post Type
Pixwell supports custom gallery post type. Allows you to share any gallery in style and beautiful popup lightbox.
Portfolio Post Type
Pixwell supports custom portfolio post type. Allows you to share your projects easier than.
Mega Menu
Mega menu show latest category posts under category menu item and sub-level menus in the grid layout.
Theme Options
You can find almost settings for your theme in theme options panel. Easy to use without coding knowledge.
800+ Google Fonts
Supports all google fonts, that allows you to select fonts for any element you can see.
And Much more other features you can explore while using this theme.
Check of all demos:
Dedicated Quick Support
We have a top-rated score and positive feedback from our buyer on Themeforest. We take customer support seriously and will with you every step of the way.
Documentation
Read Documentation: here
Changelogs

------ Version: 9.3 --------
- Add: New Baby Care demo
- Improve: Update google fonts
- Improve: Optimize CSS code
- And other improvements and minor bug fix

------ Version: 9.2 --------
- Add: Architecture demo
- Add: opacity for dark overlay option for the Slider (Wrapper) block
- Add: H tag selection for list and gird blocks.
- Add: new layout for the post listing widget
- Fix: install PublishPress Authors plugin issue
- And other improvements and minor bug fix

------ Version: 9.1 --------
- Add: Wedding demo
- Add: New shadow style for grid 1
- Add: Color options for the dark mode
- Improve: Optimize post review
- Improve: Update google fonts
- Fix: Dark mode issues in Woocommerce
- Fix: AMP CSS issues
- Fix: Ajax issue with tag filter
- And other improvements and minor bug fix

------ Version: 9.0 --------
- Add: Outfit demo
- Add: Military demo
- Add: Cryptocurrency News demo
- Improve: Dark mode layout
- Improve: WPML config
- And other improvements and minor bug fix

------ Version: 8.2 --------
- Improve: compatible with WPML (The WordPress Multilingual Plugin)

------ Version: 8.1 --------
- Add: Disable block style editor in widget page option
- Improve: compatible with WordPress 5.8
- Improve: Category featured image setting issue in WP 5.8
- Improve: Improve category panel setting
- Improve: Advert widget issue in WP 5.8

------ Version: 8.0 --------
- Add: New software demo
- Add: Fully compatible with PHP 8
- Add: Improve overall speed and optimize for Core Web Vitals
- Add: New performance settings tab
- Add: disable srcset option
- Add disable dashicons option
- Add disable gutenberg style on page builder option
- Add disable polyfill Script option
- Add preload Google fonts option
- Add disable default stylesheet option
- Add height and width attributes for image tag of external links.
- Improve: Optimize and reduce CSS code
- Improve: Optimize and reduce JS code
- Improve: Update Google fonts
- Improve: Reading time calculate support RTL language
- Improve: Update optimize speed documentation
- Improve: Theme options panel layout
- And other improvements and minor bug fix

------ Version: 7.2 --------
- Add: New podcast demo
- Add: New dark mode options
- Add: New single podcast layout
- Add: New pocast block
- Improve: Table content issues with RTL language
- Improve: Update Google fonts
- Improve: Dark mode styles
- And other improvements and minor bug fix

------ Version: 7.1 --------
- Add: New featured block
- Add: Topbar height option
- Add: New How-tos concept
- Improve: Update Google fonts
- Fix: Widget header font size option
- And other improvements and minor bug fix

------ Version: 7.0 --------
- Add: Dark mode supported
- Add: Logo options for the dark mode
- Add: New tutorial concept
- Add: Multiple authors supported
- Add: Category icon background & color settings
- Add: New subscribe box layout
- Add: New header style and header background options
- Add: New menu trigger button style
- Improve: Change bookmark icons
- Improve: Optimize code
- And other improvements and minor bug fix

------ Version: 6.3 --------
- Fix: image opacity issue in the single post.

------ Version: 6.2 --------
- Add: Support sliders in Elementor editor
- Improve: lazyload feature, Switch to use WordPress lazy load for the featured image
- Improve: Remove placeholder animation option
- Improve: importer content
- And other improvements and minor bug fix

------ Version: 6.1 --------
- Add: Elementor homempage for all demos.
- Add Call to Action widget.
- Add FW Category 1 widget.
- Add FW Category 2 widget.
- Add FW Portfolio widget.
- FW Subscribe widget.
- Add Heading Widget.
- Add Image Box widget.
- Improve: Ruby importer plugin.
- And other improvements and minor bug fix

------ Version: 6.0 --------
- Add: New Gaming concept.
- Add: Support table of contents.
- Add: Global table of contents setting panel.
- Add: Table of contents settings per post.
- Add: Table of content settings per page.
- Improve: WordPress 5.6 compatible.
- Fix: Composer button not load correctly.
- Fix: Lazyload issues.
- And other improvements and minor bug fix

------ Version: 5.7 --------
- Improve: SVG logo upload
- Improve: Optimize SEO, add nofollow for external links
- Improve: Add rel canonical for infinite load next post URLs
- Improve: Update Google fonts
- Fixed: logo URL schema issue
- Fixed: Ruby Composer issue in the latest Gutenberg version
- Fixed: Cooked plugin conflicts
- Fixed: The excerpt setting of module grid 2 not work
- And other improvements and minor bug fix

------ Version: 5.6 --------
- Improve: Add preview URL for the upload image option (Theme Options)
- Improve: Support AMP for the shop and product archive pages
- Fixed: AMP issues when activating Woocommerce plugin
- Fixed: Advertising widget issue on Elementor pages with non-logged users
- And other improvements and minor bug fix

------ Version: 5.5 --------
- Improve: Compatible with AMP version 2.0, Mobile theme supported.
- Improve: Update Woocommerce templates
- Fixed: custom advert image input in the advert widget on Elementor editor
- Fixed: Mobile font size issue when set to 100%
- And other improvements and minor bug fix

------ Version: 5.4 --------
- Add: Marketing and Beauty grid for Elementor
- Improve: Disable lazy load in Elementor Editor
- Fix: AMP logo align issue
- Fix: andSelf() notification when active Enable jQuery Migrate Helper
- And other improvements and minor bug fix

------ Version: 5.3 --------
- Improve: Update Envato Market plugin
- Fix: Ajax pagination and live search issues
- And other improvements and minor bug fix

------ Version: 5.2 --------
- Add: Telegram members counter
- Add: Blockquote font option
- Fix: The "create sidebar" option issue in the WordPress version 5.5
- Improve: Remove lazy load in the post content because it is supported by WordPress 5.5
- And other improvements and minor bug fix

------ Version: 5.1 --------
- Add: Header AMP Ad options
- Add: Footer AMP Ad options
- Add: Top single AMP Ad options
- Add: Bottom single AMP Ad options
- Add: Inline single AMP Ad options
- Add: Fallback social counter options
- Add: Update the icon font
- Add: By label for author meta in the single post
- Add: Last updated meta in the single post page
- Improve: Update Google fonts
- And other improvements and minor bug fix

------ Version: 5.0 --------
- Add: New Application demo
- Add: AMP demo (based on Marketing demo)
- Add: Big update for AMP: Transition mode AMP supported
- Add: All AMP templates supported: Post, Page, Ruby Composer, Category, Author, Archive, Comment...
- Add: New AMP settings
- Add: Application template for Ruby Composer
- Improve: Dynamic CSS
- Improve: Share on Twitter and Twitter author information conflict with Yoast SEO.
- Improve: Automatically disable duplicate the lazy load feature to avoid image issues
- Improve: Numeric pagination issue on some hosting providers
- Improve: Covid statistics
- Fix: Fix primary category issue
- Fix: Mobile logo height issue on new chrome versions
- Fix: Permalink color issue
- And other improvements and minor bug fix

------ Version: 4.6 --------
- Improve: Update font icons
- Improve: M,k number format for the Covid statistics
- Improve: Compatible with PHP 7.4.x
- Fix: New Instagram basic API supported
- Fix: Unable to click on the big title in FW feat 6
- Fix: Gallery popup does not work with only one image
- Fix: Compatible with Jetpack box map
- Fix: Remove hatom schema in the single post page
- And other improvements and minor bug fixes

------ Version: 4.5 --------
- Add: Marketing/SEO demo
- Add: New sort order option
- Add: Global pages option
- Add: New featured block
- Add: Right navigation bar
- Add: Top line-height option
- Add: Telegram, Medium social icons
- Improve: Update google fonts
- Improve: Youtube and Vimeo responsive with the classic editor
- Improve: Sticky sidebar
- Fix: Share on Twitter in the left side section
- Fix: Human time with timezone
- And other improvements and minor bug fixes

------ Version: 4.4 --------
- Add: Estimable read time post meta.
- Add: Reading speed option.
- Add: Icon before Reading Time
- Add: Shares on socials for portfolio post type
- Add: Enable/disable product review schema markup
- Improve: Fix sub-main navigation & topbar difficult touch to show on Ipad pro
- Improve: IE browser compatibility
- Improve: Featured image size of the category list shortcode
- Improve: Ruby composer interface
- Fix: Review schema markup issue
- Fix: The post sticky icon
- And other improvements and minor bug fixes

------ Version: 4.3 --------
- Add: New yoga demo
- Add: Boxed layout
- Add: New categories list shortcode with 3 layouts
- Add: New author box list shortcode
- Add: Footer retina settings
- Add: k,M number format for view and social counter
- Add: Fade animation for sliders
- Add: New Deezer, Discord and other social icons
- Add: Telegram share
- Add: New exclude tag slugs filter for all blocks
- Improve: Composer section index to help you easy to navigate.
- Improve: Theme Options panel (logo settings, backup and restore theme options).
- Improve: Fully compatible with Woocommerce shortcodes
- Fix: Flashing animation on the carousel when reaching the end of the slider
- Fix: Advert image menu height on MacOs
- Fix: Center image align issue
- And other improvements and minor bug fixes

------ Version: 4.2 --------
- Add: Medical demo
- Add: Single tagline typography options
- Add: Covid statics shortcode
- Add: Default image for facebook share
- Fix: Header style 8 issues on the sticky and transparent menus.
- And other improvements and minor bug fixes

------ Version: 4.1 --------
- Add: Beauty demo
- Add: Call to action block for Ruby Composer
- Add: Last updated date to post entry meta bar
- Add: 2 new footer layouts
- Add: Beauty featured grid
- Improve: Support all post type for ajax search
- Fix: Dark overlay option issue
- Fix: remove the role of aside tag to meet with the HTML validation tool.
- Fix: sub-sub menu hovers issue.
- And other improvements and minor bug fixes

------ Version: 4.0 --------
- Add: Decor demo
- Add: RTL demo
- Add: Support RTL
- Add: Full wide slider
- Add: Image box
- Add: Heading box for the fullwidth and content section
- Add: Full wide page layout
- Add: Native lazyload with loading animation
- Add: Lazyload for single content option
- Add: On/off all image sizes
- Add: Delay time for Ruby newsletter popup
- Add: Custom entry meta label position: suffixes or prefix
- Add: Full wide slider for Elementor
- Add: Carousel schema markup for Homepage
- Improve: Flashing issue when the sticky long sidebar
- Improve: Menu position for sticky and transparent to look similar with header settings
- Improve: Uncheck newsletter checked box as default.
- Improve: Reduce HTML DOM size.
- Improve: Increase Google pagespeed score.
- Fix: WP block columns margin issue on mobile
- And other improvements and minor bug fixes

------ Version: 3.2 --------
- Improve: Ruby Composer layout
- Fix: Share on Email title issue.
- And other improvements and minor bug fixes

------ Version: 3.1 --------
- Add: Sport demo
- Add: Freebie demo
- Add: Option to only display the primary category for single post page
- Add: In-feed adverting feature for all grid, list, and classic blocks
- Add: Call to action button in the review box
- Add: Fullwidth search box
- Add: Full wide header style with the centered menu.
- Add: Background-position setting for blocks and sections in Ruby Composer
- Add: Fullwidth Mailchimp widget
- Add: Position for the custom entry label
- Add: Sport and Freebie templates for Ruby Composer
- Improve: Update google fonts setting
- Improve: Update Woocommerce templates
- Improve: Primary category setting compatible with Navxt breadcrumb
- Improve: Category list dropdown in single post panel (easy to see child category)
- Improve: Hompage pagination title compatible with Yoast SEO
- Improve: Post widget, remove a duplicate post in the sidebar in the single post page.
- Improve: Product listing layout on mobile devices
- Improve: Mailchimp for WP widget in the footer
- Fix: Wishlist layout compatible with the latest plugin version
- Fix: Shares to social at the bottom of Wishlist page
- And other improvements and minor bug fixes

------ Version: 3.0 --------
- Add: New Fashion deal concept demo
- Improve: Google speed insight score
- Improve: Optimize fonts & site speed
- Fix: AMP issues
- Fix: custom social colors issue
- Fix: Mixed blocks margin issue
- And other improvements and minor bug fixes

------ Version: 2.3 --------
- Add: New deal & review concept demo
- Add: Deal custom post type
- Add: New slider layout
- Improve: Javascript and site performance
- Improve: Social icons styling when hovering
- Improve: New documentation
- Improve: Theme Option panel
- And other improvements and minor bug fixes

------ Version: 2.2 --------
- Add: Open in new tab option for banner block
- Add: portfolio & portfolio category custom permalinks
- Add: gallery & gallery category custom permalinks
- Add: On/off option for dynamic CSS file
- Fix: content gird 3 layout issue
- Fix: Metabox panel font issues
- And other improvements and minor bug fixes

------ Version: 2.1 --------
- Add: WhatsApp share button.
- Improve: Align center custom advert code.
- And other improvements and minor bug fixes

------ Version: 2.0 --------
- Add: New gadgets review demo.
- Add: User reviews system
- Add: Add Dynamic CSS to file
- Add: New slider block
- Add: Top line style option
- Add: New Header style.
- Improve: Ruby Composer and site speed.
- And other improvements and minor bug fixes

------ Version: 1.8 --------
- Improve: Move Demo Importer to Appearance > Ruby Import Demos
- Fix: Quick filter IDs issue.
- And other improvements and minor bug fixes

------ Version: 1.7 --------
- Add: New Food Demo.
- Add: New full wide carousel for Ruby composer and Elementor
- Add: New full width banner block for Ruby composer and Elementor
- Add: Height option for the sticky menu.
- Fix: Mailchimp description issue.
- And other improvements and minor bug fixes

------ Version: 1.6 --------
- Add: New Work Demo
- Add: Elementor About Me block
- Add: Elementor Portfolio grid
- And other improvements and minor bug fixes

------ Version: 1.5 --------
- Add: Portfolio post type
- Add: New About me section
- Add: New Portfolio grid
- Add: Mobile menu sticky
- Improve: HTML code box improve
- Improve: Theme option Module designs (screenshot) for easy to edit
- Fix: Fix custom style issue
- Fix: Masonry responsive
- Fix: Composer not work in WordPress 5.3
- And other improvements and minor bug fixes

------ Version: 1.4 --------
- Add: New header style
- Add: New background carousel slider
- Add: New content mansory block layout
- Add: New Blogger demo concept
- Fix: Plugin translation issue
- Fix: Multiple author box issue
- And other improvements and minor bug fixes

------ Version: 1.3 --------
- Add: New text color option for header style 3
- Add: New full-wide carousel slider
- Add: New Baby demo concept
- Fix: Duplicate window share popup.
- And other improvements and minor bug fixes

------ Version: 1.2 --------
- Add: New options for header transparent style
- Add: New list layout
- Add: New Photography demo concept
- Add: settings for reaction section
- Add: Ajax pagination notice.
- And other improvements and minor bug fixes

------ Version: 1.1 --------
- Add: New header style
- Add: New carousel layout
- Add: New masonry grid
- Add: New lifestyle demo concept
- Add: New Header Style
- Add: New category style icon
- Fix: Load template issue
- And other improvements and minor bug fixes

------ Version: 1.0 --------
- Initial release.

Credits
https://freepik.com
https://unsplash.com/
https://www.flaticon.com/