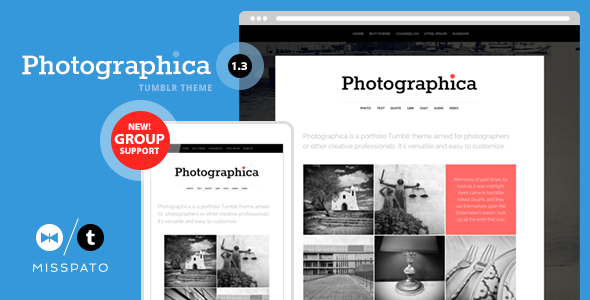 Current Version: 1.7 (View Changelog)
Photographica is a portfolio Tumblr theme aimed for photographers and other creative professionals. It's versatile and easy to customize.
Homepage/Tag list with thumbnails
Responsive web design / mobile ready
All post types
Support for Group posting
Search
Custom colors
Google WebFonts
Disqus Comments
Localization
Logo as an image
Two navigation areas (primary and secondary) for tags and pages
Support for Audio / Video Thumbnails (when available)
Photosets Layouts (as option)
Lightbox support (full screen zoom)
Pages and Ask form supported
Customizable navigation (based on tags)
Google Analytics ready
Hook for footer code
Social sharing: Facebook, Twitter, Google+ and Pinterest
Social Network links: Behance, Creative Commons, Dribbble, Facebook, Flickr, Google, Instagram, LinkedIn, Picasa, Pinterest, Tumblr and Twitter.
Support for Submit and Ask
Continuous support and updates with new features
FitVids.js – A lightweight, easy-to-use jQuery plugin for fluid width video embeds.
Photoset Grid – jQuery plugin to arrange images into a flexible grid by Jonathan Moore – Style Hatch.
JQuery Fullsizable – jQuery plugin to take full available browser space for image viewing.
HTML5Shiv (HTML5 IE enabling script) by Remy Sharp
ie7-js (A JavaScript library to make MSIE behave like a standards-compliant browser) by Dean Edwards
Script to display or hide content in the homepage / Toggle Nav button by Nelson Martins
Fontello – icon fonts generator
CSS Reset by Eric Meyer
Normalize.css by Nicolas Gallagher
Raleway font by Matt McInerney / Pablo Impallari and Rodrigo Fuenzalida | Google WebFonts
All photos and illustrations on the demo site by Patricia Carvalho
April 18, 2019 — v1.7
Minor CSS fixes to allow the Tumblr bar not to interfere with any UI element
May 29, 2017 — v1.6
Added: Thumbnail images on Link posts.
April 7, 2017 — v1.5
v.1.3 (March 13, 2014):
Added: 2 extra Nav Tags (total of 9).
Added: Group posting compatibility (optional).
Added: Support for images tagged 'instagram' be in real size.
Added: Option to swap primary / secondary navigation.
Added: Option to place secondary navigation on footer.
Added: Option to reverse pagination.
Added: Submit link on top nav (optional).
Added: Audio (cover) Thumbnails.
Added: Video (image) Thumbnails.
Added: Footer Code text field (optional).
Fixed: Minor tweaks in the smaller screen view.
Fixed: Tags spacing.
Updated: Photoset is now using the responsive code.
Updated: FitVids to version 1.1.
v.1.2 (June 18, 2013):
Added: Answer Post type.
Added: Option for logo font size.
Added: Option for body text font family and size.
Added: Option for titles colors.
Fixed: Option for font family and color for text and headings.
Changed: Article meta info above Disqus comments.
v.1.1 (June 6, 2013):
Added: Disqus Comments (optional).
Added: Smaller images on content pages (optional).
Added: Option to center tagline.
Added: New Like / Reblog buttons.
Fixed: Tumblr original photoset layout fixed (optional).
Fixed: CSS Share bar (text alignment).
Fixed: Logo (text version) spacing in mobile version.
Fixed: FitVids include (removed wrapper).
Fixed: Remove underline from logo.
v.1.0 (April 22, 2013):


Please send me any questions that you have or any bugs you find (or any feature that you would like to see added) – to [email protected]. I will be happy to help and would be very useful to keep this theme updated, improved and bug-free.