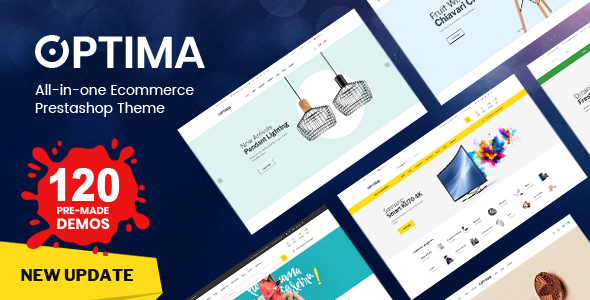 Optima is All-in-one Prestashop theme. It is suitable for any online store: furniture store, digital store, accessories store, jewelry store, organic store, fashion store, tool store, handmade store, autopart store, plant store,…
Optima comes with 120+ useful prebuilt homepages which are designed colorfully and elegantly. They are combined very harmoniously. Optima theme is simple web design and include amazing, mega menu with nice images, homepage slideshow, social networking icons, static blocks with beautiful images, css3 and bootstrap 4 technology. Megamenu customer is designed with vivid and colorful images; that brings fresh feeling for this theme. Easy to customize Megamenu in admin panel with Drag and Drop feature. Slideshow with bright and nice images and its effects is a highlight. This theme uses a lot of modules: featured products slider, product tabs, new products with slider, special products, list categories, product tabs slider,… with css3 effects for add to cart button and top links, customer can visit and go shopping more conveniently and interesting.
Optima Prestashop theme will be a great choice for your online store!
Optima's Full Features & Extenstion List
Clean, modern design can be used for any type of website
Built with Bootstrap 4 and CSS3
120 Different Layouts

Flexible layout format comes with various styles.

Retina & Fully Responsive

Works like a charm on any devices, any resolutions.

Cross Browser Compatibility

Chrome, Safari, Mozilla Firefox, IE 8+, Opera 9+

Font Awesome icons and Linearicons fully integrated.
Quick View

You can view product details in the popup

Ajax Add to Cart

You can add products to cart without leaving current page.

Ajax layered navigation, Ajax Toolbar

Filter products by price, product options, product attributes,…
Help your customer find the product quickly

Grid / List view

Allow to display your items in either list or grid view

Cloud Zoom

Show a Product image Zoom when clicking on product in detail-page.

Set Layout for each page

Easy define column left or column right for each page in admin panel.

Delivered with source Adobe .PSD files
Blog Extension

Xpert Blog with category, article, tag, comment etc…

17+ New extensions by Posthemes

Megamenu Customer
Vertical Megamenu
Pos Slideshow Slider
Pos List Categories
Pos list category products
Category Tab Slider
Product Tabs Slider
Pos Special Products module
Daily Deal module
Pos Featured Products module
Pos New Products module
Pos Bestseller products
Pos Testimonials
Pos Logo
Pos search products by category
Pos Static Blocks
Pos Static Footer

Advanced Typography Options!
Graphics Used

Many thanks for these great images to:

Note: All images are just used for preview purpose only and NOT included in the final purchase files.
Theme Support
Our support team guarantees to respond you within 24-72 working hours from Monday to Friday. You can send us email to [email protected]. We will process tickets and respond you to in the queue order.
UPDATED AND FIXED

03/10/2022: Update version 2.1.1
    - Update theme compatible with PrestaShop 1.7.8.4

11/23/2021: Updated version 2.1.0
    - Updated theme compatible with Prestashop 1.7.8.1

10/28/2021: Updated version 2.0.9
    - Updated theme compatible with Prestashop 1.7.8.0

08/28/2021: Updated version 2.0.8
    - Updated 4 new home pages: Jewelry #5 #6 #7 #8

07/28/2021: Updated version 2.0.7
    - Updated 4 new home pages: Medial #6 #7 #8 #9

06/04/2021: Updated version 2.0.6
    - Updated 4 new home pages: Furniture #5 #6 #7 #8

05/07/2021: Updated version 2.0.5
    - Updated 4 new home pages: Electronic #1 #2 #3 #4

12/30/2020: Updated version 2.0.4
    - Updated 4 new home pages: Cosmetic #1 #2 #3 #4

11/25/2020: Updated version 2.0.3
    - Updated 5 new home pages: Wine #1 #2 #3 #4 #5

11/04/2020: Updated version 2.0.2
    - Updated 5 new home pages: Medial #1 #2 #3 #4 #5

09/10/2020: Updated version 2.0.1
    - Fixed JS for theme Bicycle #2,#3

07/15/2020: Updated version 2.0.0
    - Updated 4 new home pages: Lingting #1 #2 #3 #4

07/01/2020: Updated version 1.9.9
    - Updated 4 new home pages: Bag #1 #2 #3 #4

05/06/2020: Updated version 1.9.8
    - Updated 4 new home pages: Watch #1 #2 #3 #4

01/20/2020: Updated version 1.9.7
    - Updated 4 new home pages: Barber #1 #2 #3 #4

01/06/2020: Updated version 1.9.6
    - Updated 4 new home pages: Bicycle #1 #2 #3 #4

12/10/2019: Updated version 1.9.5
    - Updated 4 new home pages: flower #1 #2 #3 #4

11/20/2019: Updated version 1.9.4
    - Updated 4 new home pages: supermarket #1 #2 #3 #4

11/11/2019: Updated version 1.9.3
    - Updated 4 new home pages: sportware #1 #2 #3 #4

10/21/2019: Updated version 1.9.2
    - Updated 4 new home pages: kitchen #1 #2 #3 #4

10/08/2019: Updated version 1.9.1
    - Updated 4 new home pages: pet #1 #2 #3 #4

09/27/2019: Updated version 1.9.0
    - Updated 4 new home pages: book #1 #2 #3 #4

09/12/2019: Updated version 1.8.9
    - Updated 4 new home pages: food #1 #2 #3 #4

08/21/2019: Updated version 1.8.8
    - Updated 4 new home pages: toy #1 #2 #3 #4

07/24/2019: Updated version 1.8.7
    - Updated 4 new home pages: handmade #4 #5 #6 #7

07/11/2019: Updated version 1.8.6
    - Updated 9 new home pages: fashion #4 #5, furniture #3 #4, handmade #1 #2 #3, tool #2 #3

07/09/2019: Updated version 1.8.5
    - Updated 4 new home pages: digital #2, digital #3, digital #4, digital #5

05/20/2019: Updated version 1.8.4
    - Updated 5 new home pages: Organic #1, Organic #2, Organic #3, Autopart #1, Autopart #2

05/06/2019: Updated version 1.8.3
    - Updated 3 new home pages: decor #3, jewelry #3, jewelry #4

05/03/2019: Updated version 1.8.2
    - Updated 6 new home pages: decor, plant, jewelry

04/08/2019: Updated version 1.8.1
    - Fixed Blog SEO URL on Prestashop 1.7.5.1

07/20/2018: Updated version 1.8
    - Updated theme compatible with Prestashop 1.7.4

11/20/2015: Updated version 1.7
    - Fixed install module: poslogo, possequence
    - Fixed translate module: posproductcates

07/02/2015: Updated version 1.6
    - Updated 2 new skin Kids, Tools

03/27/2015: Updated version 1.5
    - Updated RTL language

01/26/2015: Updated version 1.4
    - Updated prestashop 1.6.0.11
    - Updated new theme Fashion #3, Furniture #2

06/04/2014: Updated version 1.3
    - Updated new theme Fashion #2

05/22/2014: Updated version 1.2.1
    - Fixed: right sidebar column display with sub category level 3

05/15/2014: Updated version 1.2
    - Updated quickstart to prestashop 1.6
    - Updated new theme (Fashion)
    - Updated blog module (value $17)

03/26/2014: Updated version 1.1
    - Fixed search box when mouseover. 
    - Fixed warning errors in the Modules area after the install on prestashop 1.6

03/24/2014: Updated template for prestashop 1.6
    - If you want upgrade prestashop 1.5 to 1.6 you need update files and folders in "pos_corau_template_updated_1.5.x.x_to_1.6.0.5" folder
    - After you updated template you need see configuration in file "pos_updated_template_1.5.x_to_1.6.pdf" 

03/10/2014: Released version 1.0
    - You can see instruction in documentation folder
    - http://posthemes.com/docs/pos_optima/