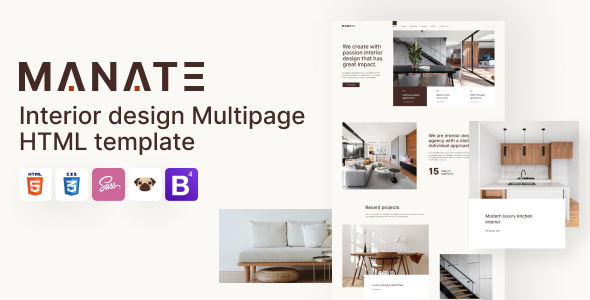 Modern Interior Design HTML5 Template
The interior design HTML5 template offers everything required for quick and effective website development. Nowadays, it is vital for any company to have a properly designed website. Interior design studios are no exception. However, to make your website look attractive and function correctly, a professional approach is needed. That's why many entrepreneurs decide to hire a web developer instead of developing websites on their own.
Still, it's not always possible. If you are planning to save on web development, choosing HTML website templates is what you need. They have attractive designs, impressive looks, and rich functionality. Also, they are designed to be easily configured and customized. Due to the Bootstrap framework, these solutions are also highly responsive and easy to maintain. If you are looking for a well-made HTML5 template for an interior design studio, we have what to offer you.
Flexible & Feature-Rich HTML5 Template for Interior Designers
The Manate interior design HTML5 template offers a modern design with a minimalistic touch. It also includes a spacious layout suitable for a variety of content. Whether you plan to post images of your projects or articles about interior design, our template can help you. Moreover, it includes a variety of features. They are designed for improving your site's performance. Here are just some of the notable features included with this template:
W3C valid coding;
SEO-ready & responsive layout;
Cross-browser support;
SCSS & Pug source files.
However, there are other advantages available with this interior design HTML5 template. For example, you can use the built-in slider to showcase your featured interior design projects. Also, they can be used for publishing customers' testimonials. The detailed header and footer allow for easier navigation. With a well-developed menu, it will be easier for your clients to navigate the website. Also, you can use social icons to add links to your social accounts on your website.
Multipage & Customizable Solution for Your HTML Website
The template we offer you also contains a varied set of pages. They are developed to meet the diverse purposes of a modern web design studio. With these pages, you can give more information about your company and post the latest news. Moreover, it is easy to promote your services with Manate interior design HTML5 template. Most importantly, you can showcase your interior design portfolio and stay in touch with your clients. All of the above is possible due to the following pages:
About;
Services;
Gallery;
Blog;
Contacts.
Any website owner wants his site to look unique and original. And that's exactly what we tried to achieve with Manate. This interior design HTML5 template includes a set of UI elements that can be added or modified to make your website a more unique formation. From buttons to tabs and progress bars, there's a lot our solution can offer. Even if you are not a developer, you'll find these elements easy to work with.
Reliable HTML5 Solution with Lots of Content
Like any modern template, our solution has a wide choice of content. It is suitable for images, videos, and text. Besides adding your content, you can also use what our interior design HTML5 template already includes. Also, with different content sections for myhome website, you can do a lot more than just advertise your projects and services. All blocks and sections can be replaced and modified thanks to the easy-to-edit structure of Manate.
If you are looking for more information about our HTML5 template, feel free to consult its documentation. It describes how to install and work with this solution. Also, it answers a variety of common questions about our HTML templates. However, if you need additional support, our team will be happy to help you. We also recommend checking out our template catalog with dozens of HTML5 templates and landing pages for your business.
Changelog
Version 1.0 – September 30, 2021
Initial release
Thank You!
Thank you so much for your interests. Your comments and ratings would be much appreciated.
When you purchase this template, you get friendly and effective support. We will update this template time by time and we want to hear your wishes for the future updates or for complete new templates.
If you like our template please rate it!