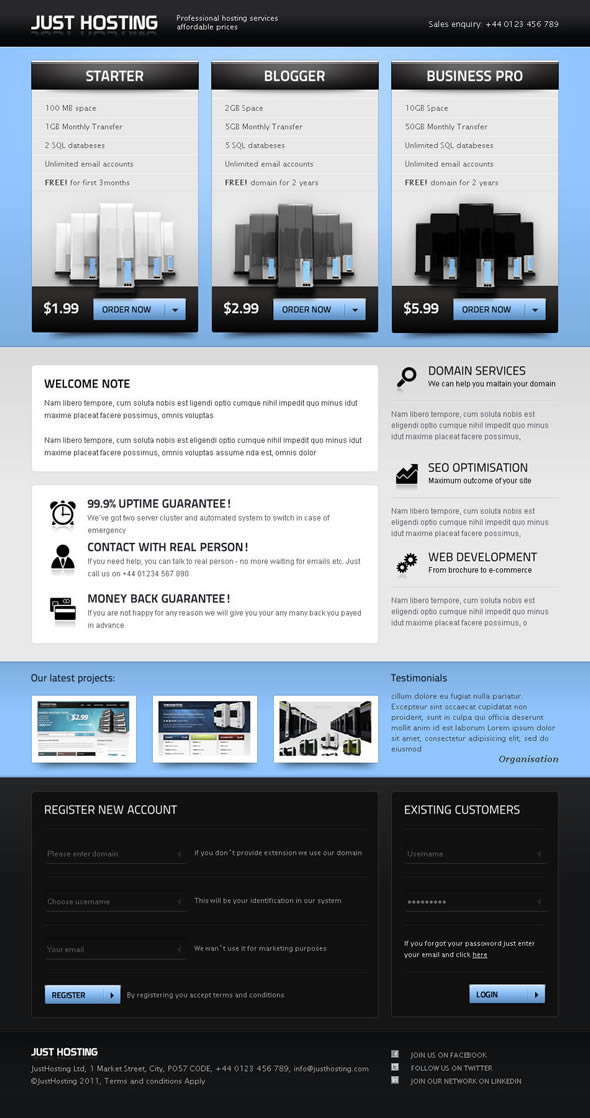 WHMCS Issue
Due to some funny ways of updating WHMCS system by authors I need to rework something – at this moment I can't guarantee that WHMCS part of template working in 100%
Sign of appreciation
One of customers so liked this template and created nice tutorial to work on this template with WHMCS installation – check this: http://markustenghamn.com/started-hosting-theme-whmcs
Latest update – WHMCS client area template addition
Now you get WHMCS template for back end of your hosting
I present you new HTML5 compatible landing page template for hosting and web services company. It's very light and easy to customize – you need to modify just few things and it's ready to go.
What we've got in here:
UPDATED – WHMCS template
UPDATED – NEW ADDITIONAL VERSION WITH CONTACT FORM AND LATEST TWEETS
– try it here
Cufon font replacement script
Nice CodaSlider for testimonials
Very nice FancyBox to show recent projects
Nice javascript to highlight selected parameters from all plans
Working Ajax/PHP form
PSD and PNG source files for projects
Valid w3c HTML5
Latest Tweets plugin – very easy to pull your tweets
If you want to make it more original project, please check my portfolio in GraphicRiver section – I've got some nice 3D servers that can fit perfectly in this project.
If you want to change colour of server you need to try this:

Make sure you check my other "servers" – you may be able o fit different one in this project:
If you've got some questions just drop me a line I will help you.