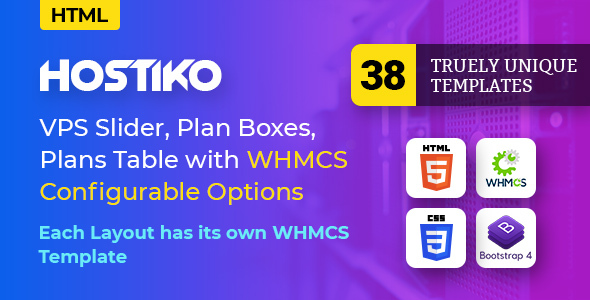 Hostiko Premium Hosting & WHMCS HTML Template is specially designed for Web Hosting Companies.
Hostiko is built with the latest web technologies (Bootstrap framework, icon font, etc.) with the care of coding quality to make sure the theme works with all browsers and all devices.
Hostiko is a professionally designed for web hosting, business, company, multi-purpose, domain sale sites . in Hostiko you can see different page layout for VPS hosting, shared hosting and dedicated hosting
You can build the powerful web hosting sites with our awesome pricing tables and custom hosting page examples. Look at our Price slider that is customizable as well
It contains custom blog layout and custom portfolio template (with a super awesome jquery plugin). It's compatible with all modern browsers and search engine friendly.
Other Features
Responsive Layout Design
Retina Display Ready
Bootstrap 4. and HTML5 & CSS3
Custom Blog Pages
Creative and Minimal Design
Detailed Documentation
Google Font Used
Font Awesome Icons
Easy to Customize
WHMCS HostikoTemplate version 8.0.4
WHMCS Material Template version 8.1
Changelog
08-FEB-2020
- Layout 38 added,
25-JAN-2020
- Layout 36 added, whmcs 8.1 template released 
10-DEC-2020
- Layout 35 added 
1-DEC-2020
- Layout 34 added 
27-OCT-2020
- Layout 33 added 
09-SEP-2020
- Layout 32 added 
03-SEP-2020
- Layout 31 added 
19-June-2020
- Layout 29,30 added 
10-June-2020
- Layout 28 added 
05-June-2020
- Layout 27 added 
27-April-2020
- Layout 25 and 26 added 
24-DEC-2019
- Layout 23 added 
18-NOV-2019
- Layout 22 added 
04-NOV-2019
- Layout 21 added 
30-OCT-2019
- Update WHMCS files 
24-OCT-2019
- Layout 20 added 
11-OCT-2019
- Layout 19 added 
07-OCT-2019
- Layout 18 added 
30-Sep-2019
- WHMCS Template update 
06-AUG-2019
- New Pages added Layout 15
24-July-2019
-added new Layout 15
11-July-2019
-added new Layout 14
28-June-2019
-added new Layout 13
27-June-2019
-Updated Layout 12 and WHMCS ORDER FORM ADDED
31-May-2019
-New Layout 12 added
15-May-2019
-Layout 08 CSS and Responsive updated
08-May-2019
-Layout 10 and 09 CSS and Responsive updated
05-May-2019
-Layout 11 CSS and Responsive updated