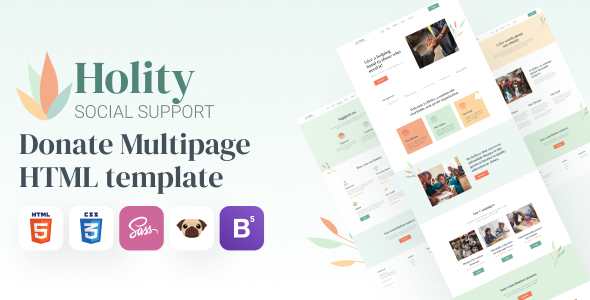 Reliable Donate Website Template Bootstrap Solution
The donate website template Bootstrap design is a great solution for building an outstanding website for your charity organization. Nowadays, every NGO requires a well-designed website. it helps in promoting various charity programs. Also, a well-developed website is a great source of information. That's why many charity organizations choose to develop a website from scratch. However, it often requires a professional approach.
While not every organization can hire a seasoned web developer, there are other ways to creating a powerful website. One of them includes the usage of HTML% website templates. These solutions are affordable and well-balanced for users with any type of web development skills. Based on the Bootstrap 5 framework, such solutions provide high responsiveness. They are also easy to customize and maintain. If you are looking for such a template to help you build a well-designed website for your NGO, we have something that may fit you.
Donate HTML5 Website Template with Lots of Features
The Holity donate website template Bootstrap design provides a modern & clean design. It is combined with a detailed & advanced layout to provide lots of space for your content. Whether you are planning to add more text about charity campaigns or describe your volunteers' work, this template has space for it. Also, it comes with a bunch of useful features. They are designed to make your site more stable and reliable. Here are some of the included advantages:
W3C valid coding;
SEO-ready & responsive layout;
Smooth CSS3 transitions;
Cross-browser support;
SCSS & Pug source files.
Alongside these advantages, there are others that you can benefit from. For example, you can use the built-in working forms to increase the interaction with your visitors. Also, you can create a proper first impression with the header section. It is full-width and it allows one to easily navigate the website. Also, with sliders and counters, you'll be able to add more important information to any part of your charity website. These and other advantages make the donate website template Bootstrap design suitable for any kind of NGO online resource.
Multipage & Customizable Charity HTML Template
Other advantages of the donate website template Bootstrap design are its multiple pages. Being supplied with varied HTML pages, our solution allows you to build anything you want. For example, you can create a site that promotes your charity campaigns. Or you can tell more about your NGO team and volunteers. Also, this template is great for staying in touch with your supporters. You can easily let them know how they can influence your charity work. With these and other pages, our solution can be a real time-saver for you:
About Us;
Campaigns;
Support Us;
Contacs.
Each of these pages can be customized by your taste. This donate website template Bootstrap solution allows you to freely replace any block or element. Even if you don't have any coding knowledge, working with this template will be quite simple for you. Moreover, with some experience, you'll be able to drastically change the appearance of your future website at any time. Thus, you'll attract the attention of your potential supporters a lot faster.
Content-Rich HTML5 Template for NGO & Charity
Together with all these benefits, the Holity donate website template Bootstrap design provides lots of pre-designed content. For example, it has a selection of content sections made for specific purposes. They can be easily used when just need to quickly add your content or update what you've already added. All the sections are interchangeable and don't require complex code interference. This makes our template a great choice for everyone.
If you need more information about this HTML5 template, we recommend reading its documentation. It describes how to install and manage this template. Also, in the documentation, we tried to answer all the common questions about the HTML5 products we provide. But in case you need extra assistance, we are always happy to help you. Our professional support team will be glad to provide any guidance you may need. We also invite you to take a look at our template portfolio with dozens of well-designed solutions.
Changelog
Version 1.0 – October 30, 2021
Initial release
Thank You!
Thank you so much for your interests. Your comments and ratings would be much appreciated.
When you purchase this template, you get friendly and effective support. We will update this template time by time and we want to hear your wishes for the future updates or for complete new templates.
If you like our template please rate it!