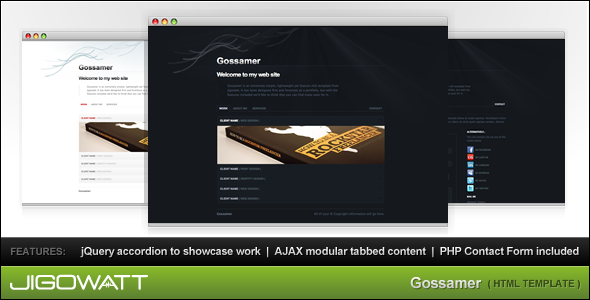 Gossamer is an extremely simple, lightweight yet feature-rich template from Jigowatt. It has been designed first and foremost as a portfolio, but with the features included we'd like to think that you can find many uses for it.
Don't forget to checkout the live demo of the Light version of Gossamer
Features
One-Page-Template – All of the "pages" in this template are controlled via an AJAX modular tab system. This means each "page" is loaded without refreshing the parent page – lightning fast browsing!
Easily add new "pages" (tabs) in minutes – you only need to edit a single file!
Work tab showcases featured work using an AJAX accordion and Lightbox pop up windows/captions
HTML styles for all your favorite tags, including tables!
This template also features our extremely popular, fully functional PHP contact form.
Stylish headers featuring gradient overlay and 1 pixel drop-shadow. All achieved with CSS.
Two colour schemes, light & dark!
Like this product? Check out Jigowatt's other offerings: