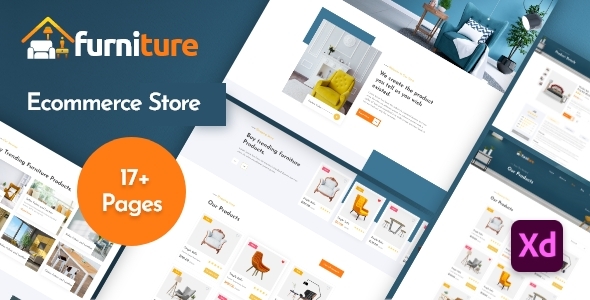 Furniture is a unique ecommerce design template that enables any seller to take their offline furniture business online with this professional looking design.
Application is designed based on extensive UX Research, which helps you to boost conversion and engagement.
This application is a best fit for anyone looking to launch their offline business online or planning a new ecommerce startup, helping you to reach a mass audience, increase revenue and build brands.
This Web Application design features a unique design. The Application is designed in the adobe Xd software and is prototype ready so you can feel the website even before getting it developed and provide you with all you will need in order to get your furniture e-commerce website built.
We also provide additional support for various other software such as Figma, photoshop, sketch and will also help you to customize the whole design as per your needs with some extra charges.
</section>
<section id="introduction">
Introduction
Welcome! First of all we want to thank you for purchasing our Premium Adobe XD Template
We really do appreciate every sale. If you like our work please do not forget to rate it. It helps us in developing new and better items.
In the following sections we will explain how to set up and use it the easiest way possible. If you have any questions that you feel should have been in this document you can contact us through our profile page on https://themeforest.net/user/themadbrains_uiuxstudio and we'll get back to you as soon as possible. Thanks so much!!!
</section>
<section id="template_features">
Template Features
Isometric Business Adobe XD Landing Page Template
16 Ready to Use UI Screens
Homepage Click Through
Homepage Lead Gen
Homepage Subscribe
14 Premium Artboard, Enhance your product design workflow
Form Light Box
SVG Icons
Based on 1170px Grid System
Full width 1920px
Retina Ready
Free Font Based Icons
Parallax background
Overlay color layers.
Very Detailed Documentation
Font Awesome Icons
Based on Extensive UX Research
High-quality Template
And many more…
</section>
<section id="files_structures">
Files Structures
Template folder is structured as following:

<strong>Documentation </strong>- That file help you to can use our template

<strong><strong>Adobe XD Template -</strong></strong> All Adobe XD files for your template
</section>
<section id="adobe_xd_template_files">
Adobe XD Template Files
XD template files is structured as following:
Furniture Order – Online Furniture Delivery Application
:
00_Preview
01_Home Page
02_About Us Page
02_About Us Page
03_Product Grid
04_Product Sidebar Left
05_Product Sidebar Right
06_Product Details – Description
07_Product Details – Specifications
08_Product Details – Review
09_Cart
10_Checkout- Customer Information
11_Checkout – Delivery Address

12_Checkout – Order Summary

13_Checkout – Payment Method

14_Confirm Order

15_Our Blog
16_Blog Grid Left Sidebar

17_Blog Grid Right Sidebar

18_Contact Us
</section>
<section id="layer_structure">
Layer Structure
As you can see in the images below, we created some folders which was named clearly based on its position in the layout and all of them are well organized.
We will expand the folders to see inside. All the layers are also named clearly. You will know exactly where this layer is belonged by its name.
</section>
<section id="sources_credits">
Sources & Credits
Fonts
Icons
 
</section>
<section id="support">
Support
Support includes bugs fixing, and general problem solving with features explained on the template's official sales page.
Once again, thank you so much for purchasing this template. As I said at the beginning, I'd be glad to help you if you have any questions relating to this template. No guarantees, but I'll do my best to assist. If you have a more general question relating to the templates on ThemeForest, you might consider visiting the forums and asking your question in the "Item Discussion" section.
Regards,
Themadbrains
</section>

Source