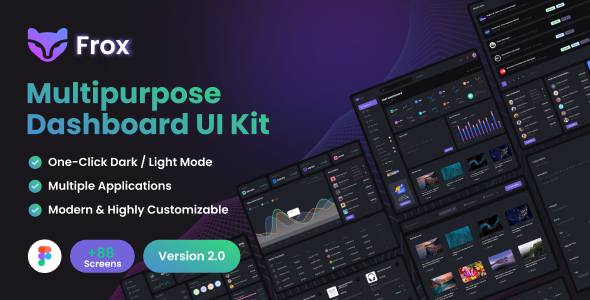 Frox is a clean and modern dashboard UI Kit targeting a wide variety of use cases for web applications in light and dark mode. With 88+ different premade screens / templates, including many of components, symbols and elements you are able to create your own unique design for your next project. It´s made from designers for designers and freelancers.
Designers, skip creating from scratch those boring web elements along with every dashboard. Use these templates to concentrate on important things, not on pixel routine.
Developers, this design library allows you to learn or enhance web design skills. Jump into a process, where you only need to drag and fit a block to build good-looking pages.
Managers & Owners, these templates are ready to be published for teams and provide an opportunity to quickstart massive prototyping immediately.
Main Features
Design System
One-click Dark & Light mode
Clean & Modern Design
Great UI/UX
Easy to Customize
Color & Text Variables
Organized Symbols & Components
Auto layout
Pixel Perfect
Google Fonts
High Resolution
+88 Screens
08 Dashboard applications, and will continuously update.
Sources and Credits
Google fonts
Icons
Images
Note
All images are just used for preview purpose only and NOT included in the final purchase files.
Figma Files

Design System 
•    Brand
•    Typography
•    Colors
•    Widgets
•    Form
•    Icons
•    Avatar
•    Other Components

Layouts (6 screens) 
•    Light-Sidebar Expand
•    Light-Sidebar Collapsed
•    Light-Only Topbar

Authentication  (10 screens)
•    Sign up
•    Login
•    Message
•    Reset Password
•    Look Screen

Ecommerce  (20 screens)
•    Dashboard
•    Product List
•    Product Grid
•    Product Details
•    Order List
•    Order Details
•    transactions
•    Customers List
•    Customers Review
•    Customers SellerDetails    

 Finance  (8 screens)
•    Dashboard
•    Cards
•    Transactions
•    Transactions Details

Jobs (10 screens)
•    Dashboard-1
•    Dashboard-2
•    JobsListing-1
•    JobsListing-2
•    Add New Job
CMS (12 screens)
•    Dashboard
•    Post Listing Grid
•    Post Listing List
•    Media
•    Add Post
•    Comments
CRM (10 screens)
•    Dashboard
•    Events
•    Customers
•    Customer details
•    Customer edit

Analytics (2 screens)
•    Dashboard
•    Dashboard 2

Project Manage (8 screens)
•    Dashboard
•    Add project
•    Add project – step 2
•    Share project

Change logs

Version 2.0: 
- Add 3 dashboard (22 screens)

Version 1.0: 
- First release
<pre /></pre>