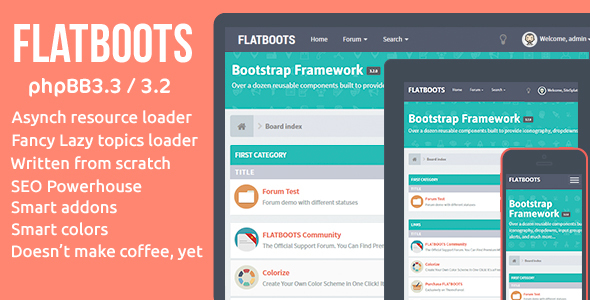 Bootstrap is 'mobile-first' front end framework developed by a couple of engineers at Twitter (hence the name), it was originally designed to help provide some consistency across tools the guys were building internally. Since its first public (open source) release in 2011 (see the blog post here) it has found huge popularity among web developers for its ease of use and feature set, and in 2012 was the most popular project on GitHub. that allows for developing websites and custom applications that are cross-browser and cross-device compatible (responsive). Some of the key features of Twitter Bootstrap are:
Responsive design Base CSS For Typography, code, Tables, Forms, Buttons
Web UI Component Dropdowns, Buttons, Navigation menu, Labels, Breadrumbs, Pagination, Thumbnails, Alerts, Progress bars
JavaScript plugins Modal, Dropdown, Scrollspy, Tab, Tooltip, Popover, Alert, Button, Collapse, Carousel and Typehead
Built on LESS A CSS grid system for designing adaptive websites
Cross platform Ensures that the output is consistent across platforms & browsers
Integration Simple, fast and easy to work with existing sites
Compatibility Takes into account the future design & development standards e.g. HTML5 & CSS3
Open Source Allows developers to participate and add their contribution to be used by other bootstrap developers
They should add "Everything" to the "What is the main reason for your rating" This is the best theme out there and it's really cheap! Looks simple but it has a lot of in depth and good features! This theme is the definition of awesomeness.

koopzable
This is such an awesome and versatile theme! Out of the box it looks so professional and well thought out. Best PHPBB3 theme we've used. It is also highly customizable, and you can easily customize it to your needs. Support is TOP notch. Any issues or even general questions have been resolved via their forum in a matter of minutes. Also lots of MODS available and some of the premium ones are really worth it.

Victimlas
The rating drop-down box only allows you to select one reason for rating 5 stars. In reality it is all of them. This is a fantastic theme built by someone who knows what they are doing.

Blakk
Dave is A+ developer. If you are looking for a forum template, you won't find better than his in themeforest. His is the best! I'm using FLatBoots template and I love it. I ordered customization and all set ups from him, and he is the best in what he does. Dramabuzz.com Website was up and ready under 4 hours. Since I'm a complete newbie in website development, I keep bugging him with questions everyday Sorry Dave :)) And he always answers my questions and explains everything. The support is A+ for this template!

zalimova
First and foremost, this simple yet modern and clean design is what sold me, but the reason behind the five stars is it's designer – Dave. For a few months now, we have been working back and forth in order to customize and finalize our website. Dave has been such a godsend and amazing part of that whole process. Great open communication, great after-service, so patient and understanding, and just an awesome guy in general. I'd recommend this theme as well as any SiteSplat products, hands down!

lexy822
Everything – design quality, feature availability, flexibility, customer support, bug-support, customizability, code quality, documentation quality…. and friendly communication.
I have not tasted everthing what stands above, but when you take a step inside the supportforum you'll see that everything is true.
Thx Dave for a piece of code that makes so much fun!

Steve – Webtyphoon
Awesome phpBB Design with very easy usuability, but on top of it , it was Customer support which made me most happy, i have used many themes before, but never really got satisfied with customer support Sitesplat is real surprise as it got outstanding support too, sadly i can only give max of 5 stars ! Highly Recommended for your Forums !

Jay_cooper
This is such an awesome and versatile theme! Out of the box it looks so professional and well thought out. Best PHPBB3 theme we've used. It is also highly customizable, and you can easily customize it to your needs. Support is TOP notch. Any issues or even general questions have been resolved via their forum in a matter of minutes. Also lots of MODS available and some of the premium ones are really worth it.

victimlas
To all future buyers, I come around since I got myself Flatboots and want to give a boost to Dave' sales for the following reasons.
– Access to a great community with plenty of MODS available for FLATBOOTS
– Premium Mods that will rock your forums
– Super fast and friendly support (I believe Dave is an alien, he doesn't sleep)
– yet my forum is not fully launched, I receive a loads of positive feedbacks about it and from forum owners too.
Those $16 will be the best purchase you will ever made for a forum style.

studio7g
This is not just a skin, it's a perfectly polished product with a great support forum and additional modules. Feels even a bit like a new engine. 5 stars from me!

Darnath
Its the perfect theme to start customising your forums! The addons, the way the theme is built, the support, the mod support ( they have made styles for the most popular mods to match the theme, how cool is this?!), the topic loader widget, everything about it, Couldn't be easier to work with! Absolutely love it!

MikeStardust
Complete newbie to PHP and developing Website Forums. This Theme looks clean, professional, and it just WORKS. I had one question/concern after a few days of using the Product and reached out to the Developer, Themesplat aka Dave, and he answered my question within a few hours and helped me resolve the issue. And prepared a fix that would help others who may encounter this issue. Great Product, Great Developer, Great Support. BUY THIS! You won't be sorry

wind777
Absolutely perfect. No competition both in&out of themeforest. This stamps on all other designs I hav seen. ONE SIMPLE STATEMENT. Buy it or you'll regret not doing so.

juyoung518
Support for this item is absolutely amazing. Extremely easy to set up the style, and if you have any issues it's incredibly easy to get assistance. The theme is also exactly what I was looking for. Original. There are not many other themes like this out there, and it really grabbed my attention. Everyone who I've shown the forum to so far also loves it. The quality and customization availability is fantastic. MOD's for the style are also regularly updated and released, which makes everything even better. Keep up the great work. Much appreciated.

jhwx
Amazing phpBB3 theme with excellent support from the authors. Highly recommended and thank you for your work!

smartmania
Was not sure about the purchasing this theme and having it customized but Dave was great to work with. He met my expectations in both the final theme and timeframe to complete the theme. I highly recommend Dave and his work.

Roktgr
ALL REASON IT'S VALID!! BEST THEME, BEST SUPPORT, BEST CODE QUALITY, BEST GUIDE, ALL THE BEST!! I'M VERY HAPPY! THANKS!!

i7Vulcan
INCREDIBLE. I've received nothing but compliments since installing it. Easy to use, beautiful highly customizable and the support from Dave is fantastic. Best purchase I've ever made here.

poind3xter
phpBB 3.3, 3.2, 3.1 and 3.0 included. Professional Development will always cover all the software versions
Bootstrap 3.3.8 Fully integrated and untouched (The only theme in the phpBB market section that has been TRULY written from scratch on top bootstrap, line by line. BBOOTS is part of my collection and it has been written from scratch as well. Don't let the other Authors Fool you with poorly coded copycats!)
Fancy Lazy Topics Loader ($250 value ) Download it from the community forum at www.sitesplat.com
Built-in "ACP Update Notifier ©" – never miss an update! HOT
Topics and Posts Status Replaced with Font Icons
Multilanguage support, just drop the language file into your language and all set!
Built from the GROUND-UP on Bootstrap Framework HOT
100% valid HTML5 and CSS3 Semantic
100+ Fully Responsive Pages (Moderator control Panel, User Control Panel , Everything!)
limitless Colors Combinations with the on-line colorpicker service: COLORIZE? HOT
Remarkably Easy and Fun to customize
Twitter API 1.1 Fully Integrated (yep add your twitter ID and presto your tweets are displayed)
Windows 8 Touch And Pinnable Address Compatible
Several Extra Bootstrap Compatible Plugins Added
Preview On File Uploads And Avatar (HOT)
Well Documented and commented Semantic (HTML and CSS)
Search Engine Optimization (SEO) Powerhouse!HOT
CSS3 Goodness )" title=";)" />
Common error pages from 400 to 503 included
Notifier system with Postpone option. Never miss a PM again! HOT
AMD loader to Load Up Resources Asynchronously and in Parallel
No More Ugly Select, Radio And Checkboxes, Everything Is Fully Styled
Font Awesome 4x And Icon Moon Font Icons Integration (Choose between 420+ icons )
Image-less! Almost )" title=";)" /> Only 2 Images Used HOT
Supports All Major Browsers And Devices
Much More I promise )" title=" :)" />
BBCORE©
Install the BBcore Extension and/or MOD included in the documentation after installing the theme! And Please, do READ THE DOCS included! No excuses!
)" title=" :)" />
MEMBERS AREA
Register or Login to the members area ONLY for access to Premium Addons, tutorials, the support forums, see the latest changes to FLATBOOTS, Latest news and much much more!
Yes an whole ecosystem built around SiteSplat's products and clients only. How cool is that?!!
OFFICIAL FEATURE/ISSUE TRACKER
CHANGELOG:
Latest and always Updated Change Log Available Here: FLATBOOTS Changelog
Includes Upgrade instructions, manual changes for theme Tweakers lovers and much more.
THE FINE PRINT:
FLATBOOTS Theme does NOT include any Pre-installed modifications or extensions. I am available for freelance work to customize you favorite phpBB3 MODs / Ext. or to extend FLATBOOTS according to your needs. Email me for a quote!
)" title=";)" />