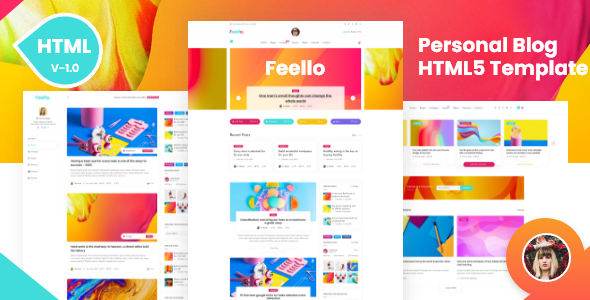 Feello | Personal Blogging HTML5 Template. The HTML template is perfect for personal blogging. There are PSD files that are perfectly organized, so you can easily customize everything you need.
This template is made of bootstrap grid stand. Which is 100% responsive. It will automatically become responsive on all mobile devices. The combination layout has tried to do everything nicely. It can be used usefully.
All the templates have commented on the code gula section which anyone can see as soon as they see which section it is.
Feello can be used for many purposes starting from making
freelancer, Web designer, Web developer, Graphics designer, Personal blogging & programming developing app and much more..
Template Features:
HTML5 & CSS3
Bootstrap v4.5.2
jQuery v3.4.1
4 Homepage
Blog Details
Responsive Design
Pixel Perfect Design
Clean Code & Unique Design
Blog Details Page
Pages:
01_Home page
02_Home page
03_Home page
04_Home page
Blog Details
Template Structure
Header
Banner
Post Cat
Resent Post
Main Post
Pagination
BG Content
Title Bar
Post Slide
Popular Post
Top Post
All Post
Footer
Template CSS
Bootstrap
Animate
Slick
Normalize
Default
Style
Responsive
Template JavaScripts
jQuery
Bootstrap
Slick
Retina
QueryLoader2
Index
Note: Preview images are not included in the final download. These are only for example purpose.
Google Fonts are Used:
Before as you start edit the template be sure to install the font.
Graphics Used:
Before as you start edit the template be sure to install the font.
Thanks so much! Best Reagurds
Devchange