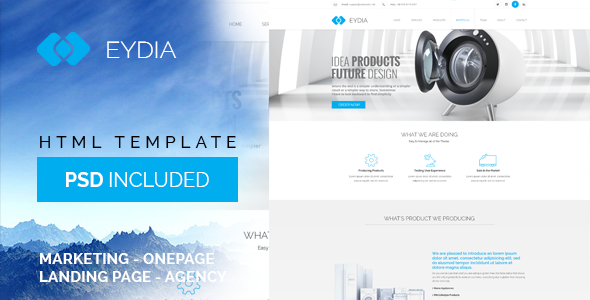 Eydia focuses on Multi-page and One-page Responsive Marketing Bootstrap Template that can use all kind of Business sites. Homepage designed for multipurpose, Laning on Multi-page, Eydea, Agency, Apps, Architect, Bakery, Boxed, Border design, Business, Charity, College, Construction, Corporate, Education, Hosting, Industry, Magazine, Medical, Personal, Portfolio, Restaurant, School, Shop, Travel, University, Wedding
Eydia is the Aristocratic theme for corporate business. It's a design that helps you to connect modern world customers. This theme achieves you to your target customers and bestows them an amazing user experience.
The design can attach the people for improving your brand. Simplicity and Colorful web makes you a classy business to Intimate relation to your customers.
You're also digging up the Responsive slider and responsive design that can be the world class enormous experience for your current visitors and future customers.
Features
Based on White
Fully Responsive Layout
Modern Design
Bootstrap v3.3.2
TOP menu bar option
Parallax ready for iPhone, iPad etc.
Price Table
Portfolio
Page Design:

Laning on Multi-page
Agency
Apps
Architect
Bakery
Boxed
Business
Charity
College
Construction
Corporate
Education
Hosting
Industry
Magazine
Medical
Personal
Portfolio
Restaurant
School
Travel
University
Wedding
Cming Soon
Shop
Left Sidebar
Right sidebar

Working Contact Form
Valid HTML5 and CSS3
CSS animation on page load
Fontawesome Icons
Cross browser compatible
Google Fonts
Best For
White, grey, black, light blue, dark blue, light green, purple, gold and yellow. Hotel & hospitality, restaurant, real estate, marketing company, blog, cms, portfolio website, software & computer sales, information technology, travel & tourism, solicitors, car business, music industry, food & drinks, human resources and personal relations organizations, school, university and college websites, science, magazine & community websites, blog.
All images are used for demo purpose only, images are not included the template package, if you need any images please purchase separately.
SUPPORT
Need any clarification about the products? or Are you facing a problem in our products? We're happy to help you.
All support requests are being answered on business days from 09:00 to 18:00 (GMT +5:30). We try our best to process your within 24h – 48h
You can send us your support request on our mail

[email protected]

. Support request on e-mail is the fastest way to reach us.Please include product name and your purchase code in the subject line to recognise your request faster.
We suggest, while our customer support team reviews your request, please read the documentation that comes in zip file of your download. You can get it from Download section of your profile.
We're working on online support ticket system for the smooth operation on our customer support. It will be live very soon.
Update
v1.5 ( 24 April 2016)

-  Fixed: Responsive Update
-  Fixed: Indexing issue Updated

v1.4 (9 November 2015) HUGE UPDATE

-  added: Many Pages
-  Added: Shop and others

v1.3 (10 July 2015) HUGE UPDATE

-  added: Multi-Page 44 New Home page
-  Added: Many Blog Design
-  Update: PrettyPhoto 3.1.6
-  Update: Bootstrap 3.3.4

v1.2 (13 April 2015)

-  Added more 30+ Home page
-  9/3 Grid Blog 
-  Masonry Blog
-  Many Pages
-  Full screen YouTube
-  Full screen Vimeo
-  Solid Color 
-  Fixed some bugs

v1.1 (06 March 2015)

-  More 4 Home Design
-  Complete Blog 
-  Blog Single Page
-  7 Blog Post Type
-  Slider Home Page
-  Huge Shortcode
-  Parallax for iPhone, iPad
-  Updated Responsive issues


Initial Release (03 March 2015)