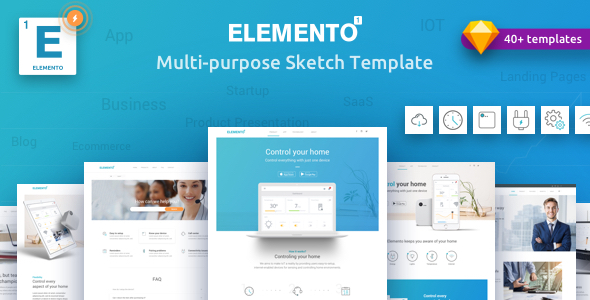 Elemento is a versatile Sketch Template composed of 40+ flexible ready-to-use pages, structured to help jump-start your next web design project.
Suitable for: Tech business, App, Startups, Product presentation, Landing Page, SaaS Companies, Blog, Etc.
These templates have been structured using the "Atomic Design methodology" that allow to iterate and implement changes really fast and easy.
FEATURES
40+ ready to use templates
15 different home pages
Web version – 1440px
Mobile Version – 320px
100+ layouts
Atomic Design Implementation
Bootstrap Grid
Symbols Best Practice
Font Styles
Premium Set of Icons
Well Layered and Named
FILE STRUCTURE
01 – Home Pages
Product v1
Product v1 – Mobile
Product v2
Product v2 – Mobile
Product v3
Product v3 – Mobile
Product v4
Product v4 – Mobile
Product v5
Product v5- Mobile
App Presentation v1
App Presentation v1 – Mobile
App Presentation v2
App Presentation v2 – Mobile
App Presentation v3
App Presentation v3 – Mobile
App Presentation v4
App Presentation v4 – Mobile
App Presentation v5
App Presentation v5 – Mobile
Service
Service – Mobile
Startup
Startup – Mobile
02 – Pages
Testimonials
About us
About us – Mobile
Support
Support – Mobile
Contact v1
Contact v1 – Mobile
Contact v2
Contact v2 – Mobile
Contact v3
Contact v3 – Mobile
Pricing Page v1
Pricing Page v2
Pricing Page v3
Coming Soon
Coming Soon – Mobile
404
404-Mobile
Login
Signup
03 – Checkout Process
Add to cart
Add to cart – Mobile
Cart View
Cart View – Mobile
Shipping Address
Shipping Address – Mobile
Payment Method
Payment Method – Mobile
Review Order
Review Order – Mobile
04 – Blog
Module View
Stream View
List View
Article View
05 – Symbols & Components
Atoms
Molecules
Organisms
06 – Bonus: iOT Dashboard App Screens
Desktop HD
iPad Portrait
iPhone 7 Plus – 4 Screens
Apple Watch
SOURCES AND CREDITS
– Fonts Used
You need to install these fonts below before editing the Sketch files
(you can find them all at Google Fonts website)
Roboto
– Graphics Used
Mockups: all the mockup images are included.
Note: All images are just used for Preview Purpose Only. They are not part of the theme and NOT included in the final purchase files.