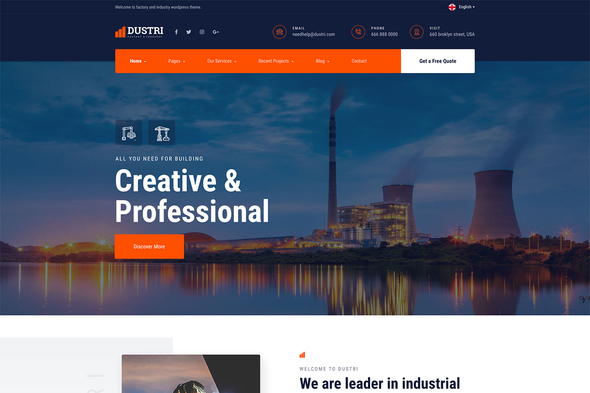 Version 1.0.1 – WordPress 5.x tested
Elementor Builder ( Free ) Save $49 Just use the free version you have the Full Demo, Header Footer, Contact Form, Slider, Tabs
Updated
Version 1.0.1
August 08, 2021

- Fixed bug no display image live demo 
Dustri – Factory & Industrial Template Kit
Dustri is a useful Template Kit and has great support for customers who have a need to build a website about the factory or services of industrial and construction. For products, With modern, clean design Dustri will satisfy all customers, including people who desire to have differences in web design style. This Template can also be used to build website services, offices, business websites and so much more
Required Plugins :
Elementor (Free) Completely free with Elementor (Free). You will have full header footer template as demo
Themesflat Addons For Elementor (By Themesflat )
MetForm
Templates
01 Home 01
02 Home 02
03 About Us
04 Our History
05 Why Choose Us
06 Services
07 Services Detail
08 project Grid
9 Project Full Width
10 Project Single
11 Testimonials
12 FAQ
13 Our Team
14 Contact
How to Install:
Install the plugin from Plugins > Add New by searching for Template Kit Import. If you use FTP to install plugins, you can download it from

https://wordpress.org/plugins/template-kit-import

Once the plugin is activated, go to Tools > Template Kit

Click on Upload Template Kit ZIP File to browse to your zip file and import.
Your Template Kit preview will appear. Click View Installed Kit:

An orange banner will appear if your kit requires additional free plugins. Click Install Requirements for details.

A popup will appear listing the plugins your kit needs installed or activated. Click Install Requirements to proceed.

Now you may begin importing your templates by clicking the Import Template button on the desired template..
How to import Metform custom form
Select the metform widget in the "Navigator" of the template where it is used
Edit existing or click Add New to import
Once the template is loaded, click 'Save and Close'
Carousels
Import the Explore Recent Works block template before importing the page layouts
Duplicate this block template as many times as you have projects and customize each one
Select the TF Carousel widget the portfolio/works section of the page layouts using the Navigator, then expand each item in the TF Carousel widget settings to select your blocks.
Images :
This Template Kit uses demo images from Envato Elements. You will need to license these images from Envato Elements to use them on your website, or you can substitute them with your own.