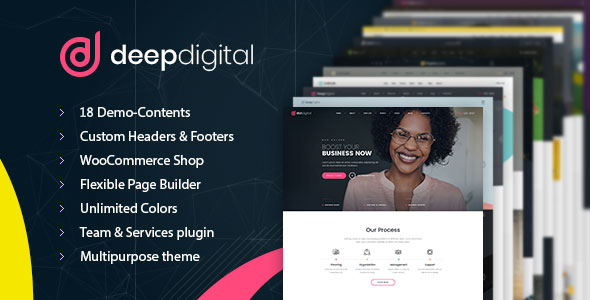 DeepDigital WordPress Theme – Web Design Anything!
DeepDigital is our latest WordPress theme that was created for companies providing web design services, marketing and branding services, web development, application development, seo marketing and other online business solutions!
As a company that provides the most essential services of our time – you have to make sure your website looks appealing and beautiful! It also has to be functional yet have an intuitive interface and be easy-to-use and customize!
And this is exactly what we offer! Amazing colorful and ultra modern design, that comes with unlimited color schemes, header and footer options, with an easy customizer panel and a Unyson drag'n'drop page builder that allows you to sort the pages' section in whatever order you like! No need to stick to the existing patterns – the look of your website is totally in your control! At the present moment the theme comes with 18 pre-made deomo contents for the following businesses:
The theme uses free fonts and icons, and is backed up with a great documentation that explains explicitly how to install and use the theme! We also a 5-star support team that is always near if you have any questions!
You may preview demo-contents here.
Please read our documentation and watch video tutorials here.
Version 2.11.2 – October, 2021

Version  2.11.2 - 21 October, 2021
*The plugins were updated.
*Documentation was optimized.

Version  2.11.2 - 16 June, 2021
*Different bug fixes and updates.
*Improvements for the demo-contents.

Version  2.9.0+ - 31 May, 2021

*Now DeepDigital theme includes 18 demo-contents: http://webdesign-finder.com/demo/demos/deepdigital_wp/ 

Version  2.9.0 - 31 March, 2021

*Now DeepDigital theme includes 11 demo-contents: http://webdesign-finder.com/demo/demos/deepdigital_wp/ 

Version  2.7.4 - 25 November, 2020

Now DeepDigital theme includes and supports the following plugins:

*bbPress: https://wordpress.org/plugins/bbpress/
*BuddyPress: https://wordpress.org/plugins/buddypress/
*Ultimate Member – User Profile, User Registration, Login & Membership Plugin: https://wordpress.org/plugins/ultimate-member/
*WP Job Manager: https://wordpress.org/plugins/wp-job-manager/
*Simple Job Board: https://wordpress.org/plugins/simple-job-board/

08 August, 2020
Theme renamed

Version 2.4.2++ - June, 2020. 

The following plugins were updated up to the latest versions:

* Slider Revolution
* Booked Appointment
* Snazzy Maps
* TotalDesk Support plugin

Version 2.4.2+ - May, 2020

* Improved .pot file for translation was added.

Version 2.4.2 - March, 2020

* Added all in one demo with 13 homepages 
* Minor bug fixes

Version 2.4.0 - December, 2019

* 6 New Demo Contents
* Several Layouts for Widgets: Portfolio, Posts, Team
* New Features for Media Elements Video
* New Features for Shortcode Testimonial
* Several New Features for Footers

Version 2.3.0 - June 14, 2019

* Added Helpdesk plugin
* Added RVM responsive vector maps plugin
* Added 4 alternative home pages
* Added Timeline Unyson shortcode
* Added Simple List Unyson shortcode
* Added two versions Icon Box Unyson shortcodes
* Added Social Icons v2 widget
* Rebuilding logo
* Added 4 alternative Steps shortcode types
* Added 4 header layouts
* Added Simple Counter Unyson shortcode
* Added Tabs Icons Unyson shortcode
* Added new Portfolio item layout
* Added Tiled & two Extended layouts for Unyson Posts shortcode

Version 2.1.0 - December 10, 2018

* Added FullPage plugin
* Added header-2 custom search icon
* Team slider shortcode scss optimized
* Added "Disable gutenberg" plugin

Version 2.0.6 - November 27, 2018

* Added Polylang plugin
* Fixed blog grid pagination
* Added tracking scripts (Hotjar, Google Analytics, etc)
* Removed mwt-maintenance plugin
* Removed mwt-developer plugin / add mwt-helpers plugin (Show system info)
* Prepared theme for PHP version 7.2

Version 2.0.0 - October 4, 2018

* Added Revolution slider + Unyson shortcode
* Added Team member layout 3
* Added open hours shortcode
* Added Services layout 4
* Added Home Page Alternative
* Added footer layout 2
* Added Video shortcode
* Added shortcode Info Box
* Added section styles switcher in section options
* Rebuilt color scheme
* Added new testimonials layout

Version 1.0.0 - May 18, 2018  [released]

Initial Release