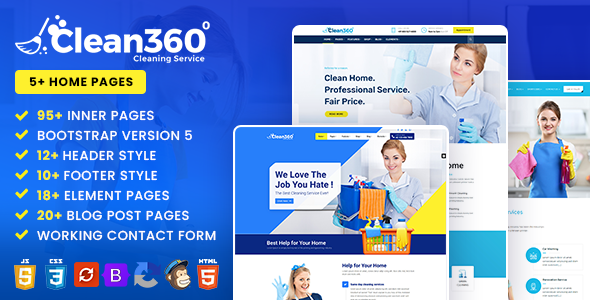 Drop Your Support Query : https://support.w3itexperts.com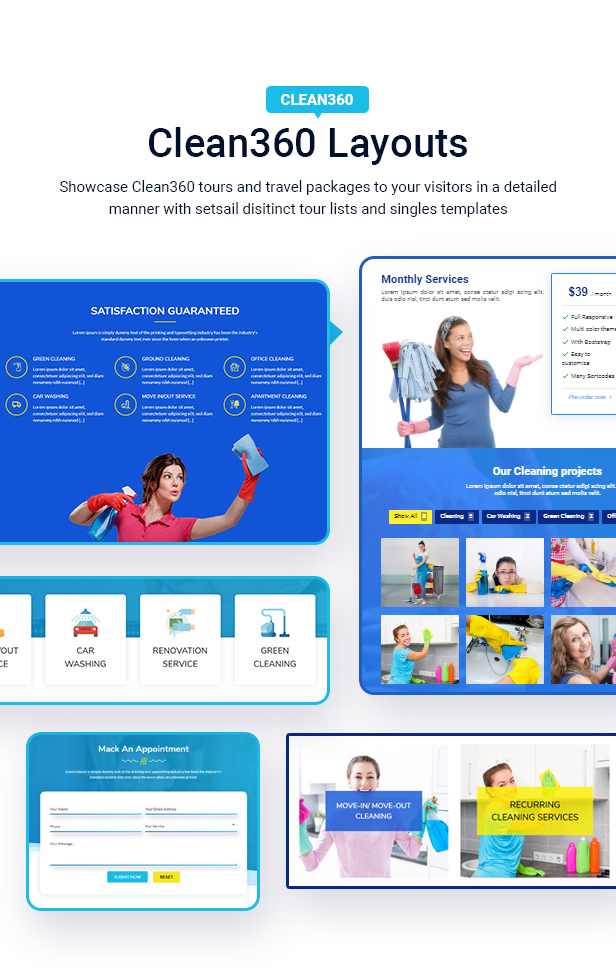 About Clean360
Clean360Html Template is designed for especially cleaning company, cleaning service, cleaning business, cleaning WordPress, laundry, washing, floor cleaning, maid service, maid agency, maid cleaning, & Multipurpose Business. This template has a beautiful and unique design that will be best suited for your (cleaner) online web presence. It has 100% responsive design and tested on all major handheld devices.
Clean360 comes with necessary features for your online presence like service pages. booking form, testimonials and 18+ solid shortcodes pages, blog, testimonial and team page etc.
Clean360 has included all possiable required page like Blog Pages, Store Pages, Gallery Pages, Login Pages, Error Pages, Comingsoon Pages.
Best Customization possiable with strong Total 18+ types of Shortcodes.
Included Pages
3 Home Page Version : Cleaning Service/Pest Control (1 New Page Added)
2About Us Page Version
2 FAQ Page Version
2 Services Page Version
1 Help Desk Page
1 Privacy Policy Page
4 Portfolio Page Version
5 Gallery Page Version
3 404 Error Page Version
2 Coming-soon Page Version
2 Login Page Version
Store Pages Available
20+ Blog Page Version
18+ Short-codes Available
4 Contact us Page Version
Features
SAVE $16 Slider Revolution implemented
99+ HTML Templates Available
Ajax Based Running Contact form
Solid Booking Service Form
3 Staining Home Page (1 New Page Added)
12 Types Header Styles Available
10 Different Footer Styles Available
8+ Types Testimonials
Bootstrap3 + CSS3 + HTML5
Super Responsive for all latest browsers and mobile devices
Parallax effect
Google Webfont
You will get
HTML Files
PHP File for Contact mail
jQuery and Javascript files
CSS files
Proper Documentation
Slider Responsive jQuery Version Free with Template
Font
Open Sans
Montserrat only for Headings
Font Awasome
Important
Note : Images used in the demo are not provided in download package.
Change Log – Enhancements & Bug Fixes
Version 2.0 – 24 December 2021

Update To Bootstrap V5
Update Font Icons
Update JS Files
Update CSS Files

Version 1.8 – 27 March 2021

HTML Improvement
CSS Improvement

Version 1.7 – 30 October 2020

Added : One New footer style page (Footer 9) 
Added : One New footer style page (Footer 10) 
Added : One New header style in light and dark(Header 5)  
Added : One New header style in light and dark(Header 6)  

Modified: Header with new menu style and Footer with new page links
Modified : custom.js for resolving issue in zoom in zoom out effect

Improved : Header and footer section design

Version 1.6 – 29 April 2020

Improved : design home page 2

Added : One New header style in dark and light(Header 3) 
Added : One New header style in light and dark(Header 4)  
Added : One New footer style page (Footer 7) 
Added : One New footer style page (Footer  

Version 1.5 – 21 November 2019

Added : One new portfolio page(Portfolio 3)
Added : One new contact us page (Contact us 4)
Added : One New Home Page for home cleaning (home cleaning 3) 

Updated : New Bootstrap 4.3.1 version

Improved : IE 11 issues
Improved : HTML, CSS, JS files

Version 1.4 – 03 April 2019

Added : One new service page (Service 3)
Added : One new Login page (Login 2)
Added : One new contact us page (Contact us 3)

Improved : Cross Browser Compatibility Issues
Improved : Page speed on GTMetrix and pingdom

Version 1.3 – 03 March 2019

Added : One New Home Page for home cleaning (home cleaning 2) 

Version 1.2 – 13 October 2018

Added : MailChamp Integration
Added : One new Login page (Login 1)
Added : AddThis Social Api integration
Added : One new service page (Service 2)
Added : One new about us page (About us 2)
Added : One new contact us page (Contact us 2)
Added : reCaptcha integration on Contact Forms

updated :  Bootstrap 4 version

Version 1.1 – 08 March 2018

Added : One New Home Page for pest control 
Improved : Apply new w3 validation on all files 

Version 1.0 – 28 January 2018

New - Created & Upload Clean360