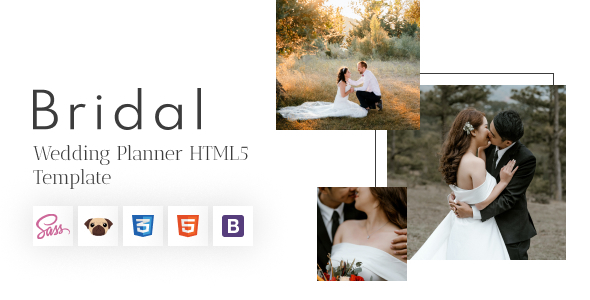 Clean Wedding Planner and Photography HTML Template
A wedding planner and photography HTML template is a powerful solution for creating a website that can be trusted. Nowadays many wedding planners rely on their sites as a means of promotion. Also, it allows them to establish connections with vendors. However, it is not possible to achieve success with an average website. That's why many wedding photographers and planners hire web developers. Still, it is an expensive matter to develop a website from scratch.
To save money & time on web development, many people tend to use HTML templates. They are reliable and affordable. Also, these solutions are easy to work with. After purchase, you just have to unpack the template archive and upload it to the server to use it. Our team has developed Bridal, the HTML template that perfectly fits the goals of modern wedding planners and wedding photography. It is based on Bootstrap 5 for better responsiveness and maintenance.
Feature-Rich HTML Solution with a Wide Range of Sections
Our new wedding planner and photography HTML template has an impressive and clean design. it greatly fits the mood of such an important event as a wedding. Besides, this HTML solution is also quite informative. It is achieved thanks to the detailed layout. With its help, you can describe your work and tell more about your services. Also, our template has lots of awesome features, even for a marriage agency. They can completely transform any wedding planner website. Here are just some of the numerous features that Bridal offers:
W3C valid coding;
Pug & SCSS source files;
Optimized for speed;
Responsive layout.
A variety of features is just a small part of what Bridal has to offer. This wedding planner and photography HTML template is built from a wide set of sections and blocks. One of the benefits these sections offer is their reusability. With their help, you can give relevant information about wedding vendors. Moreover, you can easily describe the advantages of using your wedding planner & wedding video services. Last but not least, it is simple to share information about upcoming workshops. These events may attract more potential clients to you.
Customization Multipage Website Template for Wedding Planners
An HTML template with pre-designed pages can serve as a ground for any modern website. And our solution has a wide range of pages to offer. They are designed to fit the needs of wedding photography as well as vendors & planners, etc. Most importantly, all these pages are performed in the same color scheme and palette. With their help, you can post regular news or stay in touch with your clients. Besides offering basic functionality, the Bridal wedding planner and photography HTML template also features these pages:
Sales;
Vendors;
Events;
Blog;
Contacts.
Any template made by our team has a huge customization potential. This wedding planner and photography HTML template is of no exception. It has a wide range of UI elements that can help you spice up your vintage wedding website and make it unique. These elements and blocks include buttons, tables, accordions, text elements, etc. They are performed by the style of the template. Also, by using these elements, you can craft a website that satisfies your needs. This is also true for rustic wedding websites.
HTML Template with a Variety of Advantages
As you can see, the Bridal wedding planner and photography HTML template has all it takes to help you build a great website. Moreover, it is perfectly suited for wedding-related topics. It also features such advantages as working forms for simpler visitor interaction. A well-designed blog sidebar will allow your visitors to find the information they are looking for. And simple yet effective navigation will help your potential clients find what they need on your website. This option is advantageous to honeymoon planners as well as their clients.
If you are looking for more information about Bridal, then its documentation will help you. It has answers to all the common questions about HTML templates. Also, it explains how to solve common issues that might happen during template use. However, if you have additional questions, our qualified and dedicated team will be glad to help you. They are always ready to provide any necessary support. We hope that our template portfolio has what you need to establish an attractive wedding planner website.
Changelog
Version 1.1 – January 19, 2022

* [upd] Bootstrap to 5.0.1;
* [upd] Popper.js to 2.9.2;
* [upd] jQuery to 3.6.0; 
* [upd] jQuery Migrate to 3.3.2; 
* [upd] Owl-carousel to 2.3.4; 
* [upd] Swiper to 5.3.1; 
* [fix] CSS styles;
* [fix] Minor Bug Fixes.

Changelog
Version 1.0 – August 28, 2020
Initial release
Thank You!
Thank you so much for your interests. Your comments and ratings would be much appreciated.
When you purchase this template, you get friendly and effective support. We will update this template time by time and we want to hear your wishes for the future updates or for complete new templates.
If you like our template please rate it!