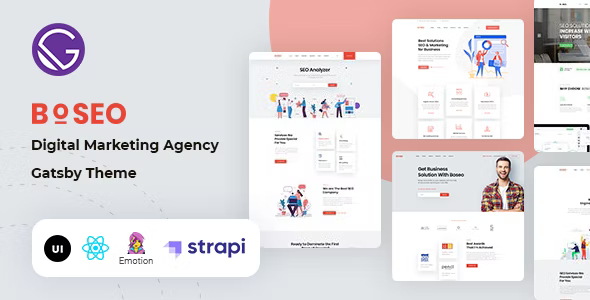 BoSEO – Digital Marketing Agency Gatsby Theme
BoSEO – Digital Marketing Agency Gatsby Theme is a fantastic and awe-inspiring Digital Marketing web template based on the latest version of React JS and Gatsby that facilitates the development of your digital marketing agency website. As a result, you can rapidly extend your reach and make your digital marketing firm well-known by using Boseo to create a striking web presence.
BoSEO – Digital Marketing Agency Gatsby Theme Detailed Description
Emotion JS and Theme UI
Boseo is a unique and comprehensive React SEO Agency Gatsby Theme whose components are built on Emotion Js and Theme UI. Emotion is a CSS-in-JS library with easily handled object styles for writing CSS. It is fast, versatile, and performant and facilitates the quick styling of an application.
Reusable Components
The components of this Digital Agency Gatsby Theme are reusable. You can mix and match the components in order to create an entirely distinct and professional digital marketing agency Template.
React Hooks
As we have used React hooks here, the component behavior can be easily handled because you can use state and other React features without having to write a class.
Inner Pages
This outstanding React js SEO company Gatsby Theme provides 04 home variations, 05 Portfolio variations, 02 Blog variations in total all having a modern outlook. You may use these pre-built pages for creating your desired web pages for your digital marketing agency website orif you require a custom layout, you can employ also our React components to build your own.
Jamstack Architechture
The ReactJS SEO Company Gatsby Theme is built on the cutting-edge architecture of Jamstack which makes it developer-friendly. As it's based on Jamstack, you will get advantages such as scalability, blazing-fast page loading speed, maintability, portability and so on.
Lerna + Yarn Workspaces Monorepo
The Mono-Repo is a (git) repository containing numerous projects inside a single repository. Lerna and Yarn Workspaces are very efficient tools for managing JavaScript projects with multiple packages. These tools assist you in setting up monorepos, linking packages locally, and smoothing out your development environment.
Easy Customizability with Component Shadowing
Since this digital marketing agency Template is powered by Gatsby it has a unique feature called "component shadowing," which allows users to override a particular component. It helps customize the rendering process. Therefore, modifying any page or component within this template will be straightforward. The outcome is a lightning-fast static site that is SEO-friendly as well.
Data Sources from Json, Markdown, and Strapi
The BoSEO GatsbyJS theme was designed with the intent to provide a complete JAMStack solution. In this React JS SEO company Gatsby Theme, we included support for various data sources such as Json, Markdown, and Strapi CMS.
Other Features
In addition to the above features, the Boseo- Reactjs SEO Agency Gatsby Theme provides Disqus Comment, Responsive and cross-browser compatible layout, Google Fonts, Font-Awesome & Linear icon, Beautiful and Unique Design, Life Time Free Update and so on.

That's not all, you will avail our friend after-sales support and regular free lifetime updates after purchasing this template.
Features:
Build on React Platform (v17.0.2)
Build on Gatsby (v4.x.x)
Lerna and Yarn Workspace Monorepo Architecture
Build on Gatsby Theme
Component Shadowing
Data Sources from Json, Markdown and Strapi
Pre-built gatsby pages
Jamstack Architecture
02 Blog variations
05 Portfolio variations
Images Optimized by gatsby-plugin-image
React Hooks used
Reuseable Components
Form Validation Check by React Hook Form
PWA with Offline Support
Google Map
Disqus Comment
No jQuery Dependency
Responsive Layout
Google Fonts
Font-Awesome & Linear icon
Fully compatible for all major browsers such as Firefox, Safari, Chrome, Vivaldi, Microsoft Edge
Well Documented
Life Time Free Update
Amazing 5 stars support
Best Developer Experience
and Much More…
change log
Version: 1.0.1 —— Date: 17 – 01 – 2022

1. Fixed: Header's height issue on window resize
2. Fixed: Hero area's height issue

IMAGES ARE NOT INCLUDED WITH THE DOWNLOADABLE FILE
Do You Need More Features?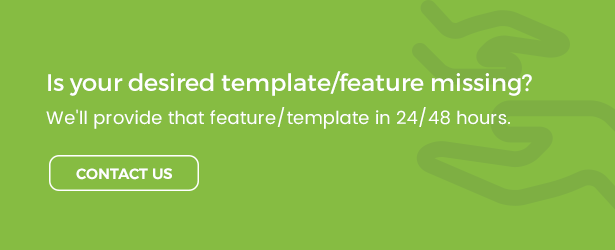 Live Chat: PreSale Question (9am-6pm; UTC +6)

Support
Feel free to contact us any time. We have a dedicated team to provide you the best support.
Create A Ticket here if you need any support for the item purchased.
Have a question? Need clarification? Feel free to Contact Us if you have a pre-sale question