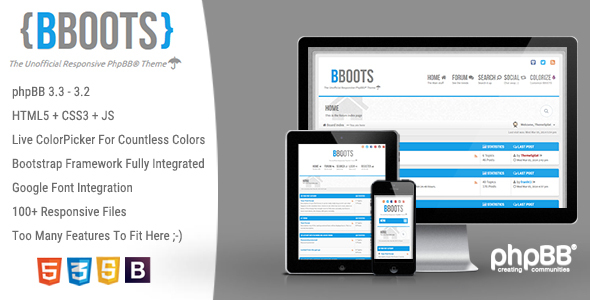 BBOOTS
BBOOTS? Is The First And Only Fully Responsive phpBB® Unofficial HTML5/CSS3 Theme Built Entirely from the GROUND-UP. It?s Clean And Crisp Design Looks AWESOME Across All Browsers And Devices.
Based on Bootstrap Framework is sure to AMAZE the phpBB Fan Club
What is BOOTSTRAP exactly?
Bootstrap is 'mobile-first' front end framework developed by a couple of engineers at Twitter (hence the name), it was originally designed to help provide some consistency across tools the guys were building internally. Since its first public (open source) release in 2011 (see the blog post here) it has found huge popularity among web developers for its ease of use and feature set, and in 2012 was the most popular project on GitHub. that allows for developing websites and custom applications that are cross-browser and cross-device compatible (responsive). Some of the key features of Twitter Bootstrap are:
Responsive design Base CSS For Typography, code, Tables, Forms, Buttons
Web UI Component Dropdowns, Buttons, Navigation menu, Labels, Breadrumbs, Pagination, Thumbnails, Alerts, Progress bars
JavaScript plugins Modal, Dropdown, Scrollspy, Tab, Tooltip, Popover, Alert, Button, Collapse, Carousel and Typehead
Built on LESS A CSS grid system for designing adaptive websites
Cross platform Ensures that the output is consistent across platforms & browsers
Integration Simple, fast and easy to work with existing sites
Compatibility Takes into account the future design & development standards e.g. HTML5 & CSS3
Open Source Allows developers to participate and add their contribution to be used by other bootstrap developers
BBOOTS fans say:
User Review (customized template)
Dave has been an absolute pleasure to work with! First of all his communication through email has been incredibly good and he makes sure everything you want is done to the way you want it. What impressed me the most is that with just being given the basic idea of what I wanted for my custom theme he offered several ideas of his own which were far better than what was originally presented. Not only that, he offered to install everything himself rather than just email the files over, as I wasn't too confident with the way this theme works.
The theme itself is amazing, even without any custom mods. If you?re hesitating, just don?t .
Thanks again!

FeroXs – Custom BBOOTS Integration
This is one of the most feature rich styles i have ever seen, it extends phpBB 3.0.12 to an other dimension.
The responsive designs are actually very important, so if you have a project that needs something like this, you will be more then happy with this style. Your members with smartphones and tablet PCs will be more then happy, no need for Tapatalk and Co.
Thanks to the author for this style, i will for sure buy it for my next project(s)

FrankPabst
This is an absolutely brilliant theme. Download and install was quick and clean. I was installing this to a pre-existing board, and if you take out the time it took me to remove old MODs, styles, ect, installing and configuring this took me less than an hour. (That included the MODs available on the authors support forum which were specifically updated to support this style, and to a 5 star standard. I came across one issue which I couldn't immediately find an answer to, posted on the support forum, and had my answer within minutes. Out of the now three bootstrap styles for PHPBB I've tried so far, this one tops it. Clean, stunning, and the mobile compatibility is just frankly astounding. Most certainly recommended for anyone running a PHPBB framework

isiliden
To all the people who are reading up on comments and wonder if they should purchase. You will regret if you dont. Not only do you get a awesome product that is beautifully designed, but you also get a service and support that is of the chart. There?s not enough ?stars? here to rate this.
10/10

RcTrucker – Happy customer
AWESOME THEME!
This has to be the best PHPBB theme on theme forest. The support is top notch and the theme is simply put stunning. I bought this theme because I wanted to have a nice site with solid hosting. Idk who he uses for hosting, but all I have to say is that everything the author has is incredible. I will be buying from you in the future, and I hope that you continue to put out more themes. Oh, and thanks for the extra help in setting me up, I really appreciate it!

shadow257- Happy customer, Custom Integration
Fresh air finally. I was just sick of the official phpbb team not being able to come up with a modern theme. This is absolutely brilliant! It really is THE ONLY FULLY RESPONSIVE phpbb theme around built from scratch. I tried too many and wasted money and time until BBOOTS. Thanks for releasing this. Lots of love )" title=" :)" />

Kyle lassie – Custom integration
wow.. most beautiful phpBB theme ever.

Kushalitha – Exclusive Author
Great theme and great support..! http://miui.cz/

Ingbrzy – MIUI CZECH & SLOVAK is official fanpage of XIAOMI.com for Czech and Slovak republic.
I would like to say ?Thank You? I absolutely love this theme. It?s clean, fresh, and loads faster then any theme I have ever worked with. Your attention to detail on this theme is outstanding. I appreciate the blood, sweat, and tears that went into the creation of this amazingly stunning phpbb theme.

JBHawaii
Simply the best! I get comments about how good my forum looks with this theme. The developer is also friendly and happy to assist with any problems. Recommended +1

LukeT
Best phpBB template ever.
Documentation very clear even for a newbie like us.
definitely one of the best around here.
Keep up the very good work!
Excellent support and feedback
100% trustable.

multicorechina
Take a closer look at BBOOTS Features List:
Optional MIni CMS:
Mini CMS
Bootstrap 3x Fully integrated and untouched
Multi-purpose, Clean And Elegant Design
Topics and Posts Status Replaced with Font Icons
Multi-language support, just drop the language file into your language and all set!
Built from the GROUND-UP on Bootstrap Framework
100% valid HTML5 and CSS3 Semantic
100+ Fully Responsive Pages (Moderator control Panel, User Control Panel , Everything!)
limitless Colors Combinations with the COLORPICKER service: COLORIZE
Super Easy to customize
Twitter API 1.1 Fully Integrated (yep add your twitter ID and presto your tweets are displayed)
Windows 10 Touch And Pinnable Address Compatible
Several Extra Bootstrap Compatible Plugins Added
Preview On File Uploads And Avatar
Well Documented and commented Semantic (HTML and CSS)
Search Engine Optimization (SEO) Masterpiece!
CSS3 Goodness )" title=";)" />
Common error pages from 400 to 503 included
Balloon PM's Notifier system with Postpone option. (never miss a PM again!)
Performance Engine to Load Up Resources Asynchronously and in Parallel
No More Ugly Select, Radio And Checkboxes, Everything Is Fully Styled
Font Awesome 4x And Icon Moon Font Icons Integration (Choose between 420+ icons )" title=";)" /> )
Image-less! Almost )" title=" :)" /> Only 2 Images Used
Supports All Major Browsers And Devices
Much More I promise )" title=";)" />
DEDICATED COMMUNITY SUPPORT FORUM:
BBOOTS SUPPORT
BUILD YOUR OWN COLOR SCHEME:
COLORIZE
PREMIUM ADDONS, TUTORIALS and MORE:
CUSTOM MOD's
THE FINE PRINT:
BBOOTS Theme does NOT include any Pre-installed MODs/Extensions. I am available for freelance work to customize you favorite phpBB3 MODs/Extensions or to extend BBOOTS according to your needs. Email me for a quote
)" title=";)" />
CREDITS
Custom Addons Available
Mini Content Management System available for phpBB 3.2 (Mini CMS)

Mini CMS
CHANGELOG:
Latest and always Updated Change Log Available Here: BBOOTS Changelog