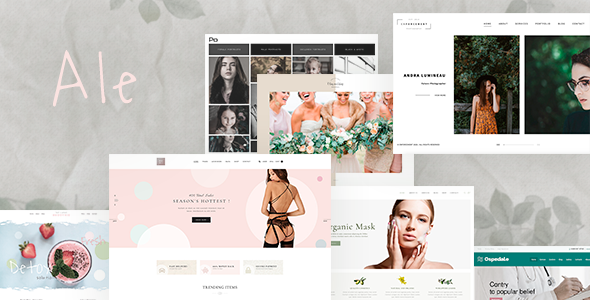 Current version: 1.0.11 / View full changelog
Predefined Demos: 44 unique & awesome sites
Video Tutorials: Playlist with english subtitles
Online Documentation: Support & Docs

We update the theme weekly with new features adding, bug fixes and new predefined demo examples. We are very excited to continue providing an excellent support with awesome updates for our clients.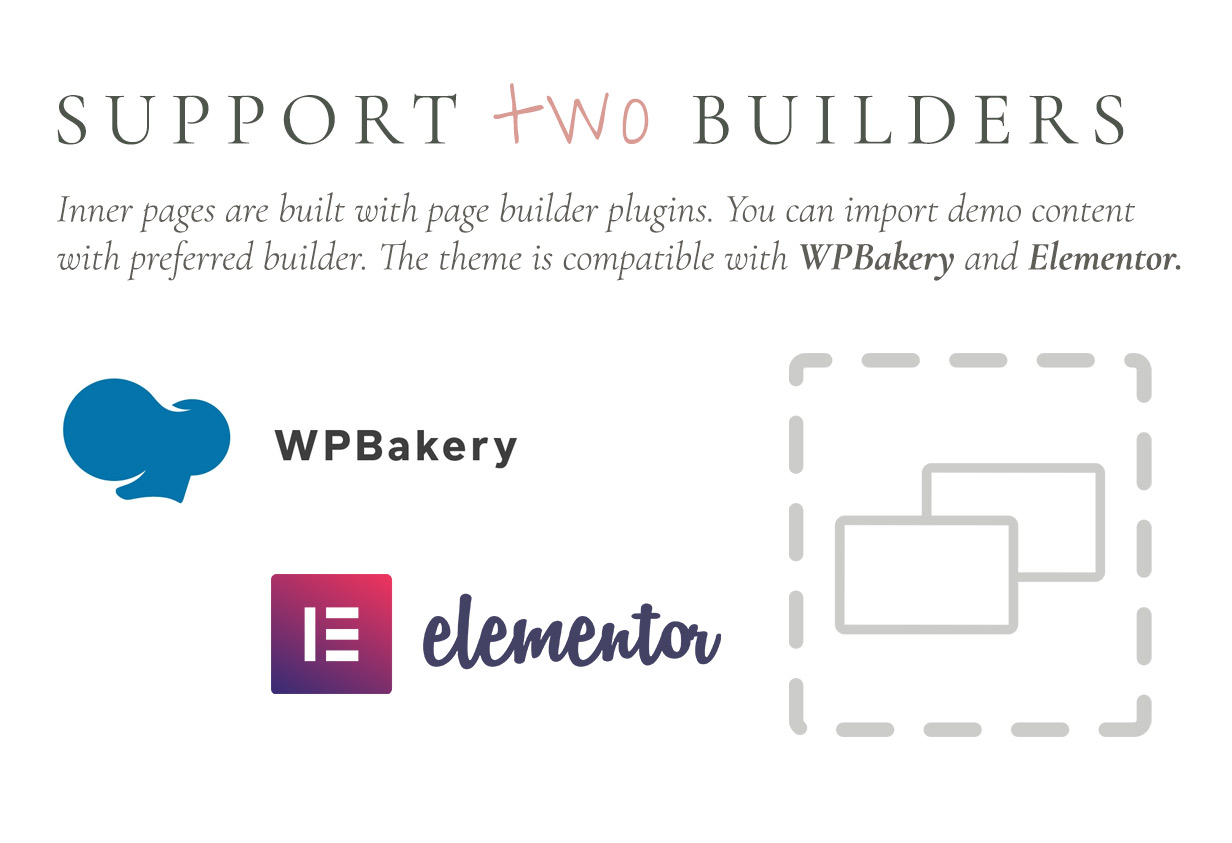 Ale Multi Niche eCommerce WordPress Theme – is an universal and multi functional theme that is suitable for wedding, nature, portrait and other photographers, business, freelance workers such designers, programmers, architects, web-designers, writers, illustrators, different types of shops like clothing or shoes shop, furniture and so on, also bakeries, zoo and etc.
This WordPress theme comes with lovely design layouts. You can create a fabulous website and play with options to create unlimited variations of your website appearance. You can do whatever you want just with one template which name is Ale Theme. It's incredible! The best and universal solution for such many niches in one time and in one theme.
Online Documentation – https://aletheme.com/docs/
By purchasing this product you get:
Unique stylish design of the website, with an amazing animation.
SEO optimization for keeping in top pf the search engines.
one click installer, which helps you to understand how to realize your services and products just in few minutes.
Flexible page options, which are created for you in form of construction to modify them easier.
Our theme is fully compatible with WooCommerce. It allows you to sell your product on the website.
Different types of free plugins, which are included to help you in creation startling image slideshow.
Translation into different languages for attraction multinational audience from the whole world.
Multi functionality that makes this template suitable for so many niches! From writers to furniture shop! One theme includes so many functions and layouts, just look.
High-Quality theme. It works perfect at any type of devices from mobile phones to tablets laptops and PC-s.
Custom Support Service. We are always with you to give all necessary answers and to provide required information.
It's the greatest solution for many types of agencies like travel agencies, for public catering like restaurants and cafeterias, For health care domains like yoga and fitness centers and much more. How many opportunities just in one template? An interminable number! Stylish and remarkable design make the future website fascinating and unrepeatable! You definitely won't find anywhere such offer – to get one theme that includes so many niches. Hurry up to get the best exclusive template created by us with the aim to develop your future business and inspirit your ideas!
Customize everything
Our Theme allows you to customize everything. Its appearance with theme options panel, that allow to do modifications without any coding knowledge. Change colors, fonts and layout in any way you want.
Responsive Layout
The Theme layout adapts to the Screen size of different device your visitors are using. You site will always look good and utilize 100% of screen estate on every device. It will perfect work on mobile devices, tablets, laptops and PC.
Each theme update we check all new pages and make them responsive for mobile devices. We also check old pages to make sure all the site is fully responsive. If you find some responsive issues, fell free to contact us, we will fix it!
WPBakery Shortcodes
Ale WordPress Theme comes with Tons of Shortcodes, more then 80+. Create almost any layout you can imagine with the help of our custom widgets and tons of shortcodes. Our shortcodes are very easy to use. Just select the necessary one and add info, the rest will do the theme engine.
By shortcodes you can add a google map on your custom page, you can build a columns page, add a partners or a team members boxes, you can do everything. You can create beautiful pages using the shortcodes system. Take a look on all available shortcodes.
Multilingual
The theme is ready for translation into a language of your choice. It works perfectly fine with the WPML Multilanguage Plugin or PolyLang in case you want to run multiple languages at once.
Powerful Admin Interface
The Ale WordPress Theme comes with a great Theme Options Panel. You can change skins, colors, fonts, pages templates etc.. It gives you the option to manage the site in an easy way. You are able to change the typography using the Typography tab in Theme Options panel. The theme comes with 600+ google fonts.
Advanced Blog Options
The Ale WordPress theme blog page comes with a plethora of options. First of all it support different post formats, such as Video format, Image format, Gallery format, Quote format and Standard format. Each format have an exclusive look.
The Blog page also comes in different styles. We build absolutely different design styles for Blog archive page. And with each update we add new styles. You can select a masonry layout, a static width layout or a full width item layout. Use it in any way you want.
Advanced Gallery Options
The Gallery system is an important part of the Ale theme, because the theme support the photography niche. We have built different gallery archive and single styles. You are able to use a masonry style, or a grid style. You can also select how many columns to use.
You can build a grid in two, three or four columns. You can use a pagination page or a filter with all items per page. Gallery template gives you a lot of option, so you can create smth really fantastic.
WooCommerce Shop
The Ale WordPress Theme works perfectly in conjunction with the free WooCommerce Shop Plugin, which allows you to sell anything without effort. It have an awesome own style and looks nice. With Ale Theme and WooCommerce you can setup a shop portal in a few minutes. You just need to install the WooCommerce plugin on you site with Ale theme installed and add products categories and description. Enjoy it!
List of Demo Examples
Delizioso (Restaurant WooCommerce Theme)

Delizioso is a lovely Restaurant niche theme. It is built and suitable for any business operating in the Restaurant industry. Restaurant, cafes, bars, bistros, bakery, pubs, cafeteria, coffee shop pizzerias or other restaurant related businesse.

Moka (Coffee Market WooCommerce Theme)

Moka variant of Ale Theme is a Coffee House & Barista WordPress Theme created especially for Cafe, Coffee House, Coffee Shop, Barista, Craft Coffee Market, Coffee Production Company, Coffee Store, Natural Coffee Sites, coffeeshop and other. Moka includes all the necessary pages of the online store WooCommerce ready. One click and your site is read, you can sell your coffee, sweets, tea, chocolate and other.

Kitty (Pets Hotel, Pets Grooming, Pets Shop WooCommerce Theme)

Kitty is a variation of Ale theme designed to help to Create websites for pet WordPress, pet blog, petshop, pet hotel, pet shop, dogs and cats shop WordPress, pet center, pets clinic, pet club, animal care, pet sitting, dog walker, kennel, dog walking, pet grooming, veterinary. The theme is perfect for pet care service, pet sitters, pet grooming, pet adoption centers, veterinary doctors, blue cross-service volunteers, pet trainers, pet training centers and all other pet related services and business

Laptica (Milk Farm eCommerce Theme)

Laptica variant of Ale Theme is a perfect solution for a milk farm. It is also good for Organic Food, Agriculture, Livestock, Organic Agriculture, Farmer, Plant Biotechnology, Precision Farming, Tillage, Poultry, Gardening, Village Farm, Landscaping Services, Farming, WooCommerce Organic Shop, Grocery / Market Shop Natural Products. You can use theme for similar web projects as Agritourism, Eco Store, Groundskeeper, Flourist, Lawn Services, Ecology, Vegetables, Viticulture, Nature, Natural Products, Organic Manure, Poultry, Husbandry WordPress theme.

Burger (Burger WooCommerce Shop Theme)

Burger demo variant of Ale Theme is to sell Fast Food, Bakery, Burger, Coffee Shops, Pizza Shops, Vegan Foods. Burger WordPress theme is based on a deep industry research and its core features were consulted with real-life local fast food business owners to provide the best tools for online food ordering websites like Fast Food Chain, Burger Shops, Pizzeria, Bakery, Street Food, Food Truck, Sushi Bar etc.

Po (Portraits Photography Theme)

Po is a Portrait photography WordPress theme that comes as a variant of Ale multipurpose theme. Po is perfect for professional photographers. It includes proofing, events, fullscreens, portfolios and galleries for photographers to create a unique website.

Smoothie (Micro-niche, Smoothie Shop, WooCommerce)

Smoothie WordPress Theme variant of Ale Theme was designed for every café, juice bar, and every organic food, nutrition and drinks enthusiast out there looking for the best way to create their site. Create a website to present your café or a juice bar, or start your healthy food blog with complete ease today with Smoothie Ale Theme.

Hai (Micro-niche, Travel Agency)

Hai variant of Ale WordPress Theme is designed for Travel and Tourism Agency Websites, Tour Operator, Travel Company, Travel Club, Travel listing Directory, Travel Deals, Travel eCommerce, Tour Guides & Tour Packages. It is good for Car Transfer, Activity/Event, Hotel Booking, Room Bnb, Villa Rental, Resort Rental, Flight Booking

Organic (Micro-niche, Organic Food, WooCommerce)

Organic variant of Ale Theme was designed for organic food, natural health products, food blogs, natural medical products, for any bakery, restaurant, ice cream shop, coffee shop, grocery store. With Ale theme and Organic demo you can easily create an online food shop and showcase food products, groceries, and all sorts of natural produces.

Cafeteria (Micro-niche, Cakes, WooCommerce)

Cafeteria Responsive WordPress Theme – is the best template for people, who's going to create a cafeteria web site, or a restaurant web site, or other types (bistro, bar, fast food, cafeteria etc.) The template is adaptive and very easy to customize. The unique sweet and vintage design will make your clients happy, the site look like a cupcake. A semi retro style and parallax effects make the site awesome.

Orquidea (Micro-niche, Beauty Salon)

Orquidea is a variant of Ale theme specially built for Beauty, Spa, Salons, Yoga, Barbershop, Care, Hair, Health, Massage, Medical, Physiotherapy, Wellness Center, Makeup, Cosmetic and Treatment. It is a stylish theme for all types of hairdresser and beauty salon websites.

Nunta (Micro-niche, Weeding)

Nunta is a unique style variant of Ale Theme designed for a website for any business related to wedding, save the day, wedding location, wedding flowers, wedding atelier and set up your site in a few easy steps. Unique features like wedding announcements, countdown, photography and gallery pages, wedding invitations, guestbook and RSVP pages.

Limpieza (Micro-niche, Cleaning company)

Limpieza is a variant of Ale theme. Cleaning Services WordPress theme suits best for cleaning website such as Labor services, House Cleaning, Apartment Cleaners, Industry Cleaning, Office Cleaning, Housemaid Solutions, Painter, Construction, Handyman, Plumbing Service, Washing services.

Donation (Micro-niche, Donation Organization)

Donation varian of Ale Multipurpose WordPress Them is a better way to present your ngo, non profit, Nonprofit organisation, donation website, crowdfunding, fund-raising, covid donation website, help poor people. Donation Responsive WordPress Theme developed mainly to setup charity and nonprofit organizations, donation and church websites. Best suited for the charity organizations. The design is unique and awesome.

Ospedale (Micro-niche, Medicine)

Ospedale variant of Ale Theme is a template for Health and Medical websites. It is a highly suitable template for doctors, dentists, hospitals, health clinics, surgeons and any type of health or medical organization. It has purpose oriented design, responsive layout and special features like appointment forms, services, doctors, gallery items, testimonials, contact form, maps, FAQs etc

Enforcement Ale WordPress Theme is a gorgeous and creative photography wordpress theme. It includes albums, portfolios, galleries, events, fullscreens, proofing, blogs for photographers to create a unique website. The creative WordPress theme is not limited to just photographers and could easily be adapted to suit a wide range of applications such as creative agencies, weddings, fashion sites, art blogs.

Prestigio WordPress Theme is a perfect template for business startups, web studio, digital agencies, consulting firms, personal business and photographers. The theme is one page with different features.

Exotico (Micro-niche, Fruits & Vegetables, WooCommerce)

Exotico Ale Theme is a colorful, modern & responsive Organic Food WordPress Theme. It is perfectly suitable for natural food related websites, such as contemporary agricultural business company, healthy food blog, gastro tourism agency or healthy food shop. Also it is great for dairy firm & cheese farm, winery and grape farm, corporate eco products store, fresh bread and bakery store.

Keira (Micro-niche, Organic Oil, WooCommerce)

Keira WordPress Theme is perfectly suitable for Olive Oil and Vinegars Production Company website. This awesome variant of Ale theme is great for all kinds of websites: organic food, natural health products, food blogs, natural medical products, for any bakery, restaurant, ice cream shop, coffee shop, grocery store.

TaxiPress (Micro-niche, Taxi Company)

TaxiPress variant of Ale Theme is Taxi Service Company modern WordPress Theme created specially for taxi cab service companies, taxi drivers. It can also be suitable for a car rental and other transport companies. An awesome vintage design make this template unique and beautifull.

Rosi (Underwear, WooCommerce)

Rosi demo example of Ale Theme is a Fashion Lingerie & Bikini Store WordPress Theme created especially for Elegant Lingerie Brand, Underwear Store, Fashion Bikini, Glamor Nightwear, and other. The store layout are built with WooCommerce.

Zoo (Micro-niche, Zoo)

Zoo Variant is a beautiful, stylish and powerful animal / pet care WordPress theme. It's good for a zoo, safari activity, circus, and aquariums. Zoo variant of Ale theme will also be useful for those looking to open an animal shelter or pet services of any kind (like pet grooming or a veterinary clinic), or any other topic-related business.

Bakery (Bakery, WooCommerce)

Bakery demo example of Ale theme is a modern bakery and pastry shop theme. Whether you wish to present your bakery or coffee shop, this theme just has to be your key ingredient. Created with care specifically with bakeries, pastry shops and coffee shops. It is fully WooCommerce compatible.

Black&White variant of Ale Theme is a good solution for a creative site, a corporate team, a lawyer, a medical doctor or a freelancer looking for a modern portfolio website or a personal blog. The style is built in black and white colors and the theme is WooCommerce compatible.

Photography Ale Theme is a clean and minimalist WordPress theme for photography, creative, portfolio and any creative photography related web site. Built with the latest WordPress technology. Ale support responsive layout so it looks great on all devices. It has predefined styling for photography work, creative and designs which can be imported with one click.

Camping (Micro-niche, Travel)

Camping demo example of Ale Theme fits any travel activities like caravan park, tent, campsite bungalow, camping, cottages, campground and motorhome. Travel WordPress theme is thought for mountain sports in the nature like hiking, kayaks, biking and excursions activities. Suitable also for tennis club, swimming pool, sports center and holiday summer sports.

Travel Photography (Photography)
Luxury Shoes (Micro-niche, Shoes, WooCommerce)
Viaje (Micro-niche, Travel)
Furniture (Micro-niche, Furniture)
Magazine (Magazine, News Blog)
Wedding (Micro-niche, Wedding Agency)
Creative (Creative, Blog)
Corporate (Business, One-page)
CV (Freelance portfolio, One-page)
Brigitte (Wedding photography)
Fashion (Micro-niche, Wear, WooCommerce)
Pastel (Creative, Blog)
Stephanie (Wedding Photography)
Cameron (Creative, Blog, Portfolio)
Jade (Photography, Portfolio)
Pixel (Creative, Blog)
Custom WPBakery Shortcodes
The theme comes with more than 80+ Custom elements for WPBakery Page Builder. Here you can check the full list of available shortcodes.
Slider One
Testimonials Slider
Pretty Team
Move Slider
Simple Team
Simple Testimonials Slider
Tabs
Centered Slider
Icon Tabs
Image with Title
Works Slider
Timeline
Fashion Slider
Stephanie Slider
Steps History
Promo Slider
Extra Slider
Years Tabs
Team Tabs
Exotico Slider
Exotico Testimonials
Exotico Team
TaxiPress Team
TaxiPress Service
TaxiPress Cars
Prestigio Slider
Ospedale Slider
Opening Hours
Event Slider
Contact Form
Recent Works Line
Counter
Google Maps
Simple Form
Price Element
Selected Works
Scale Image Box
Hover Text
Service Block
Price Item
Hover Team
Works Masonry Grid
Video Box
Featured Post
Left Icon Service
Pricing Table
Recent Blog Posts
Corporate Team
Progress Bar
Recent Post Line
Scroll Works
Promo Banner
Creative Title
Heading
Presentation
Three Steps
Subscribe Container
Search Box
One Member
Exotico Info
Exotico Stats
TaxiPress Contact
TaxiPress Booking
TaxiPress App
TaxiPress Info
TaxiPress Suggest
TaxiPress News
Prestigio Skill Bar
Ospedale Find Doctor
Ospedale About
Donate
Donate Item
Wishes Item
Wedding Box
Countdown
Works Vertical Slider
Products Slider
Shop Categories
Shop Products
Look Book
Exotico Products Carousel
Change Log
v.1.0.8
- Moka Design Demo variant works with Elementor and WPBakery page builders
- Created Elementor widget - Simple Form
- Created Elementor widget - Simple Team
- Created Elementor widget - Counter
- Created Elementor widget - Creative Title
- Created Elementor widget - Service Block
- Created Elementor widget - Left Icon Service
- Created Elementor widget - Price Item
- Kitty Design Demo variant works with Elementor and WPBakery page builders
- Created Elementor widget - Shop Categories
- Created Elementor widget - Skill Bar
- Created Elementor widget - Team Tabs
- Created Elementor widget - Video Box
- Created Elementor widget - Years Tabs
- Laptica Design Demo variant works with Elementor and WPBakery page builders
- Created Elementor widget - Shop Products
- Created Elementor widget - Simple Testimonials Slider
- Burger Design Demo variant works with Elementor and WPBakery page builders
- Created Elementor widget - Works Vertical Slider
- Po Design Demo variant works with Elementor and WPBakery page builders

v.1.0.7
- Updated Demo install tool admin panel design layout.
- Elementor page builder support
- Created Elementor widget - Contact Form
- Created Elementor widget - Hover Team
- Created Elementor widget - Works Masonry Grid
- Created Elementor widget - Recent Blog posts
- Created Elementor widget - Recent Products
- Delizioso Design Demo variant works with Elementor and WPBakery page builders
v.1.0.6
- Created a new design variation demo. Delizioso - Restaurant WooCommerce Theme
- Updated Theme Options panel settings
- Optimized php and css code
- Fixed visual bugs for Organic Demo variation
- Replaced "select tag" navigation on mobile devices by "burger" navigation for Organic, Rosi and Creative demos.
v.1.0.5
- Created a new design variation demo. Moka - Coffee Ecommerce store
- Optimized theme options panel. Added dependency feature to show/hide specific fields for specific demos (or other dependensies)
- Updated Ale Core Plugin and bundled plugins zip to last version
v.1.0.4
- Created a new design variation demo. Kitty Pets WooCommerce Shop and Pets hotel
- Optimized theme options code, page builder php and css code
v.1.0.3
- Created a new design variation demo. Laptica Milk Farm WooCommerce shop
- Updated Ale Core Plugin and bundled plugins zip to last version 
- Optimized php and css code
v.1.0.2
- Fully translated to russian language. Added .po and .mo files
- Created a new design variation demo. Burger eCommerce shop
- Optimized php and css code
- Updated Ale Core Plugin and updated bundled plugins zip to last version.
v.1.0.1
- Ale Core Plugin updated (Added new feature and fixed bugs)
- Updated bundeled plugins
v.1.0.0
- Initial release