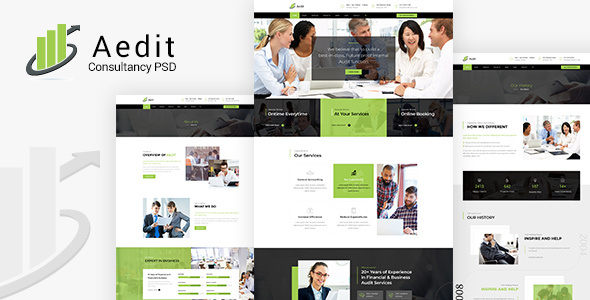 The Aedit is a professional and elegant PSD template primarily created for the auditing company, accounting firms, chartered accountants, professional auditors, consultancy, and agency websites. We have created an awesome web design both attractive and informative, where you can place all the necessary and specialization information and interact with your clients wonderfully! Especially, each component of Aedit designed after well study and review. In addition, the smart and professional font combination of crimson text and muli and highly attractive color combination let you exhibit your contents in the smartest look. So you can grab your customers attention with the visually enhanced online display. All the elements are as shapes which are editable and can be customized easily without recreating it.
All the elements are as shapes which are editable and can be customized easily without recreating it. With the right naming of files and easy editable shapes you can customize this template to any music industry website. .
WordPress Version is here
Aedit – Finance Consulting WordPress Theme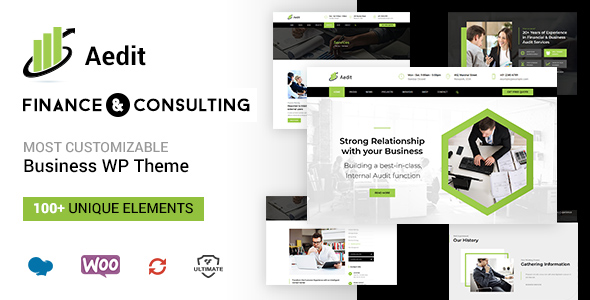 Aedit is provided with 12 unique pages
01_Home
02_About
03_History
04_Faq
05_Team
06_Team Single
07_Process
08_Projects
09_Projects Details
10_Services
11_Services Single
12_Contact
How to use:
Download and Install font from Font Awesome and Material Icons Select any font icon from the sheet and paste in the text editor of Photoshop and change the font as FontAwesome or Material Icons.
Images: Image areas are placed as placeholder items. You can add your own images as clipping areas on those shapes. Most of the images are from Shutter Stock
Icons: Icons are from Free Font Icons and from Shutter Stock. Icons are fully editable and can be customized easily.
Colors: Colors can be easily changed by clicking the shape to any color you want.
Edit-ability: All design areas are provided as shapes. Create unique design by editing those shapes. You need another vector application like adobe illustrator to edit the 'Vector Smart Object' mostly icons.
NOTE: Images used in the demo are not included for download, these images are copyrighted, if you are planning to use the photos we can provide the links to buy license.