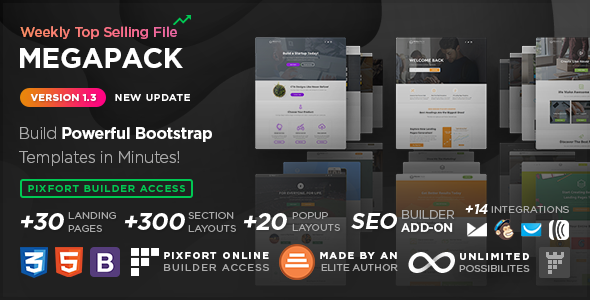 Essentials WordPress theme is Now Available on Themeforest
MEGAPACK – Premium Marketing Landing Page Templates Pack With PixFort Online Builder Access
"MEGAPACK" is the BIGGEST HTML Marketing Landing Pages Pack ever made on Themeforest, includes +30 TOTALLY DIFFERENT Landing Pages Layouts with PixFort Online Builder Access that allows you to create powerful pages with unlimited possibilities, with more than +300 Elements and +20 Popup Layouts you can use to make an awesome landing page in minutes with a contact form or subscription form integrated with Custom email, MailChimp, GetResponse, CampaignMonitor, AWeber, ActiveCampaign, MailerLite, MailWizz, FreshMail and Sendloop integrations directly from PixFort platform. This is definitely a New Revolution in the way you create websites!
Plus we have included 21 High quality exclusive PSD Mock-ups.
Introducing PixFort Online Websites Creation Platform:
The new PixFort Page Builder represents the next generation of HTML website creation tools. It introduces a revolutionary new way to build your website without writing a single line of code, thanks to the intuitive grid system based page builder which provides the best experience to create premium class responsive websites.
PixFort Builder access comes packed with MEGAPACK, the biggest template we have ever made, in addition to a powerful integration system with a set of the most popular email services that you already use and love. With PixFort builder we set a new standard for creating and publishing websites and applications.
Save your time and build landing pages in minutes!
Since MEGAPACK comes with free access to PixFort online platform you don't need to install any software, this will let you focus on building your websites and manage them in one place without any need to worry about technical issues or platform updates. To start using PixFort builder you just need to create an account on PixFort platform and synchronize it with your account on Envato Market in one click (the synchronization will verify your purchased licenses), after that you can start creating and managing your projects.
You Ask, We Answer
Here are some of the frequently asked questions:

Is there a limit for my access to PixFort online builder?

No, there is no limit to your access, you can access to your account on PixFort platform as long as you have a license, and you will be able to edit and download your project's files anytime you want.
Can I create multiple pages in my project?

Yes, you can create multiple pages in your project.
Is the builder included in the download file?

The builder is not included in the download file and the free builder access is available online on PixFort platform, if you are looking for a builder to install it offline you can check our other item FLATPACK.
Do I get future updates?

Yes of course! when you purchase MEGAPACK you get all future updates for FREE, and you don't need to update anything concerning the builder as we handle that for you
How many projects can I create?

For each regular licence you purchase from themeforest you can create one project in PixFort platform, and each project may contain multiple pages (landing pages, website with multiple pages.. etc)..

You can check Themeforest's licenses from here:
https://themeforest.net/licenses/standard

Note: in each project you will be able to create multiple pages (not just once).
| | |
| --- | --- |
Template & Builder Features:
PixFort Page builder access.
+300 Elements in PixFor Builder.
Drag and Drop page builder.
Advanced Form Builder
Powerful Popup Builder
Advanced Menu Builder
+20 Popup Layouts.
SEO ready in PixFort Builder.
+1000 Font Icons Pack.
+11 Premium integrations in PixFort Platform.
MailChimp Integration.
GetResponse Integration.
Sendy.co Integration.
Hubspot Integration.
iContact Integration.
MailerLite Integration.
ActiveCampaign Integration.
CampaignMonitor Integration.
AWeber Integration.
FreshMail Integration.
Sendloop Integration.
SMTP Integration.
Custom Email Integration.
Google reCaptcha Integration.
Set your email settings directly from PixFort Builder.
Export project via FTP Integration.
One-click download file.
Fully Responsive Design.
Super Easy Editing for Builder's elements.
Unlimited Colors & Unlimited Possibilities.
Parallax effect.
Advanced link settings.
Compatible with Bootstrap 3.x
Create multiple pages in one project.
Export your project as . zip file (includes all HTML, CSS, Javascript files and images).
New Features and landing pages in future updates.
Advanced HTML and CSS editor.
+22 Exclusive PSD Mock-Ups.
Ability to edit all colors, texts, links, images and source code.
Working Forms.
Extensive Documentation and Help Center included.

This is an HTML5 Landing Page Template, NOT an Email Template or WordPress Theme.
How you can use MEGAPACK Marketing Landing Pages:
You can use MEGAPACK for any purpose starting from business, marketing, corporate, app, creative, minimal, flat, one page, professional, Education, eCourse, Sign-up to download course outline/prospectus or an application for enrolment, Real Estate, New condo development sign-up, Property listing with real estate agent contact form, Travel , Resort package special offer (one listing), Seasonal getaways (multiple destinations), Luxury cruise, Medical/Treatment, Procedure info & sign-up (e.g. LASIK, Invisalign, cosmetic surgery), Report/White Paper/ebook download, Law, Group lawsuit call-to-action, Request for quote, Startup, Pre-launch/coming soon email sign-up, App release specs & download, SaaS Trial Sign-up, Software pricing info & sign-up, Non-Profit, Donations to a cause or Sign a petition, B2B, app landing page, builder, catering, course, fitness, landing, launch, marketing, multipurpose, one page, page, responsive landing page, startup, tour, Webinar sign-up, ebook download, Lead gen/request quote, Agency, Service offering & request for quote, Insurance, Insurance plans & lead generating form, send emails via smtp (SMTP), Beauty, University Landing page, Shop with deals page, Marketing Subscription landing page with mailchimp, Hotel, Gym, Party, Event, Marketing Representative/product information & request for consultation form, Multi-Purpose, General template fit for multi-purpose usage….
+UNLIMITED Possibilities With The Advanced online PixFort builder.
Changelog:

- NEW: Google Analytics integration
- NEW: +3 New Email Marketing Service integrations (​Hubspot, Sendy.co, iContact)
- NEW: Google reCAPTCHA integration ​(light and dark themes)
- Update: PHPMailer to 6.0.5
- Speed improvements
- PixFort platform improvements


- NEW: Added 3 New Landing Pages (Studio, Services and Modern)
- NEW: PixFort Builder is Now 60% Faster
- NEW: Sliders with Slide Builder
- NEW: Accordion Builder
- NEW: Image Galleries with Lightbox
- NEW: Added +30 Sections to PixFort Builder
- NEW:+8 New Popup Layouts
- NEW: New Image Browser in PixFort Builder
- NEW: Added +2 New PSD Mockups
- PixFort platform improvements


- PixFort platform improvements
- Updated screenshots


- NEW: Added 3 New Landing Pages (Company, Deal and Hotel)
- NEW: Added MailWizz integration
- NEW: Added +20 Sections to PixFort Builder
- NEW: Added Countdown element to PixFort Builder
- NEW: Added Automatic Popups
- NEW: Added +6 New PSD Mockups
- PixFort platform improvements


- PixFort platform improvements
- Updated screenshots


* Initial release

Version 1.0 – August 25, 2017